Welcome to Austin y'all! Here we eat queso and wear skinny jeans, ask how you are and mean it, drive friendly, consider breakfast tacos to be a food group (my favorite are from Veracruz All Natural) and whether you like to dress up or dress down, you're accepted.
Lucky you! This article comes straight from the horse's mouth. After a lifelong city-crush on Austin, I moved here in 2011 and am passionate about sharing the story of where I'm fortunate to call home—and sell homes for that matter. The energy, creativity, entrepreneurial spirit, music, arts, quality of life, nature, and opportunity are just some of the reasons why I love to call Austin home.
Evolution of Weird
When you first think of Austin, most likely the slogan "Keep Austin Weird" comes to mind. Few know that it was coined when Austin Community College Librarian Red Wassenich called into KOOP Radio's The Lounge show to donate money in 2000. The radio host asked why he was donating, to which Wassenich replied, "I don't know. It helps keep Austin weird."
Unintentionally, Wassenich coined a term that is known worldwide and Austinites proudly adorn. The phrase was picked up by local businesses, and shoppers were encouraged to "buy local." Businesses such as BookPeople and Waterloo Records (both great for gift shopping!) created "Keep Austin Weird" bumper stickers with the tagline, "Support Local Businesses." The weird took off.
As Austin has grown and the culture has permeated neighboring towns, other bumper stickers are now seen that read, "Keep Round Rock Mildly Unusual" or "Pflugerville: Between a Rock and a Weird Place." We are proud to be different and love that we attract our own.
Weird Things to See in Austin
Chicken Shit Bingo at Ginny's Little Longhorn Saloon.
The Cathedral of Junk in a South Austin yard.
Museum of the Weird.
Turtle Racing at Little Woodrow's.
Numerous hidden speakeasies—check out the Austin Tour Company for a guided tour.
One-and-a-half million Mexican free-tailed bats flying from the Congress Avenue Bridge. Best seen from the side of the bridge, on the Austin Statesman lawn, or upgrade your experience to a sunset boat cruise.
Exploring the Roots
Before Austin became the booming crane-filled city it is today, nomadic tribes of Tonkawas, Comanches, and Lipan Apaches camped and hunted along the creeks of the Colorado River, including what is now the famous Barton Springs Pool.
The Spanish set up temporary missions in the 1700s. In the 1800s the first permanent Anglo settlers called their new home Waterloo on the north side of the Colorado River near the Congress Bridge. Ed Burleson, an early Texas soldier and statesman, laid out Waterloo in 1838. During your visit, you will likely notice many references to Waterloo—such as the record store and Waterloo soda water.
When the future Texas President Mirabeau B. Lamar visited, he decided that this spot would make an excellent place for the Texas Capitol. By placing the capital city in the middle of the state, he wanted to make a statement that Texas would expand from the coast and conquer the west.
Not too long after Austin was established as a city, The University of Texas at Austin was founded in 1883. The UT main campus sits on 431 acres just northwest of the capitol. UT is a vibrant and beautiful school with nearly 52,000 undergraduate and graduate students. The UT drag is on Guadalupe (pronounced here: Gwada-Loop), and one of my favorite places to visit is the legendary Spider House Cafe & Ballroom. They serve everything from coffee, fresh juice, and smoothies to specialty cocktails in an eclectic and charming environment. Open until 2 a.m., it's a great place to work, meet with friends, or possibly catch a show under the outdoor-tented "Chapel."
Feed Your Nature Appetite    
Aside from the friendly and open culture, a big reason why Austin is such a special place is the way nature is protected and woven through the city. The Colorado River runs through downtown and is better known as Town Lake or Lady Bird Lake, where you can easily rent kayaks or paddle boards. Near downtown is Lake Austin, where you can rent a boat to drive yourself or a captained one.
We have two seasons, summer and not summer. You'll be visiting during the only quarter that it's not summer, but you still may be able to break out shorts and sandals. I definitely recommend bringing comfortable clothes and shoes to check out some of the natural sites of Austin. In the heart of downtown is the Ann and Roy Butler Hike-and-Bike Trail at Lady Bird Lake. This urban path named after a former Austin mayor and his wife is a 10-mile loop and shows the active lifestyle Austinites have. It also serves as an alternative transportation path.
If you're feeling more adventurous, you can check out the 12.7 mile (20.4km) Barton Creek Greenbelt, which is considered one of the top hiking trails in Austin and located only minutes from downtown. This trail attracts mountain bikers, rock climbers on the limestone bluff and, if there's water in the creek, several swimming holes with rope swings appear. Sometimes on a lucky day you may even find a silk aerialist among the trees.
If the weather is in your favor for swimming, Barton Springs Pool is a true wonder of Austin. The pool is fed from underground springs and is three acres in size with average temperatures of 68-70F degrees (20-21C) year-round. It is within the Zilker Metropolitan Park ground, which hosts the ACL music festival and serves as a city park for all leisurely activities.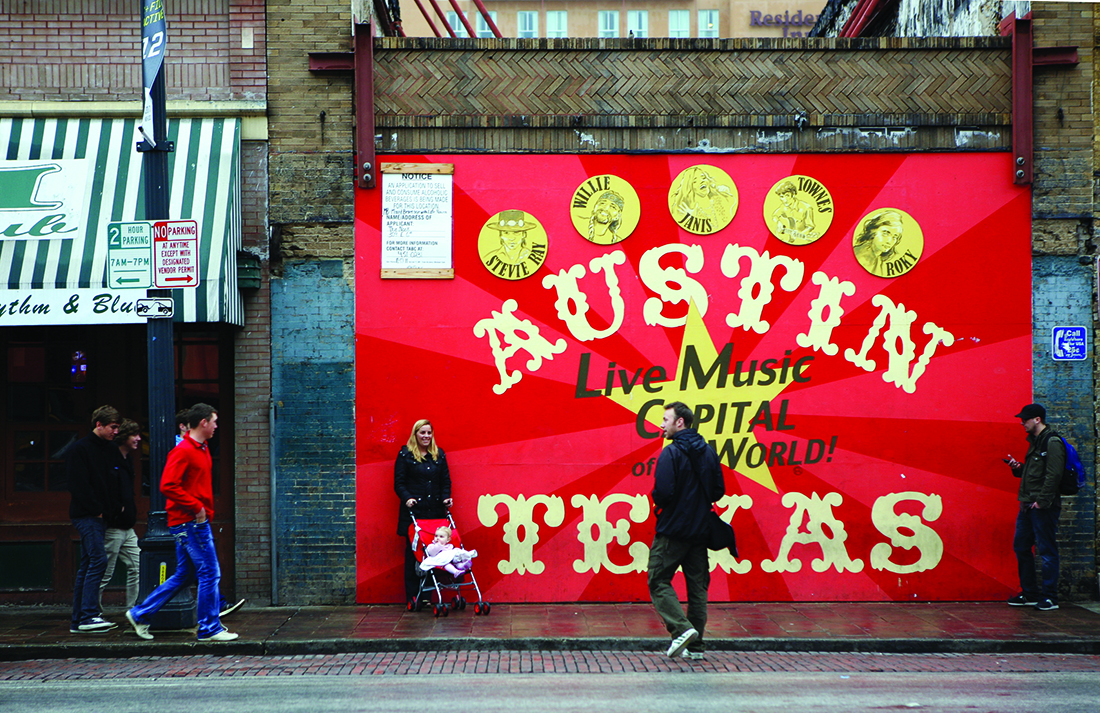 OK, Enough of the History and Nature, Let's Get to the Fun Stuff!
Austin is known for its nightlife, and most famously, the 6th Street Historic District or, as the locals call it, "Dirty." This is the area that put Austin on the map as the "Live Music Capital of the World." Even though this part of Austin is most comparable to Bourbon Street of New Orleans, there is a lot of charm and hidden gems that are often overlooked.
One of the must-see's is the historic Driskill Hotel. They have a bar that resonates Texas. Another place to dine on 6th is at the Parkside Restaurant. After dinner, I recommend heading over to the Firehouse Hostel and Lounge. Behind the lobby bookcase is a speakeasy with some of the best cocktails in town and usually live music.
If you can plan in advance, I recommend getting tickets to see a show at Esther's Follies & The Velveeta Room. This Austin gem has been called the Texas answer to Saturday Night Live—a modern-day vaudeville revue mixed with political comedy that is like nothing else on the national comedy scene. They weave comedy, music, and magic into an unforgettable show that will leave you amazed and with stitches in your sides.
For a daytime or early evening outing I recommend checking out South Congress, also known as SoCo. You can stop by Jo's Coffee to snap a picture of the iconic "I love you so much" mural. One of Austin's oldest and most cherished music venues, The Continental Club, resides on SoCo. It first opened in 1955 as a swanky private supper club but now is a known staple for great live music. Visit either the Hotel San Jose to enjoy delicious cocktails in their gorgeous hidden courtyard or stop by the South Congress Hotel for happy hour in their tasteful bar.
Rainey Street District is another popular nightlife location. It is filled with renovated bungalow houses turned into bars—all with their own distinct feel and offerings. This district is unique to Austin, and my recommendations are to check out Banger's Sausage House and Lustre Pearl.
Best Music Venues:
ACL Live at the Moody Theatre. Permanent home for the taping of
the PBS series Austin City Limits.
C-Boys Heart & Soul. Great venue
for blues, soul, and country fans.
Broken Spoke. Come see a historic landmark of country music culture­— George Strait, Dolly Parton, and Willie Nelson have all graced the stage.
The White Horse. Expect country, folk, and Western music with a lively dance floor.
The Elephant Room. Underground bar with nightly jazz music.
Y'all Hungry?
Even though Austin might be considered a blueberry in tomato soup, we are still in Texas and Texas means BBQ. The best-known BBQ spot in Austin is Franklin's and, although it's worth it, expect to wait for hours in line and they sell out every day. Another Austin favorite is La Barbeque. It is owned by a female same-sex couple and has drawn attention across the state. We're talking Texas Monthly's Top 50 list for the entire state!
And if you're at all able on a Sunday, make a reservation at Stubb's BBQ for Gospel Brunch. You won't regret it; just make sure to call ahead of time to guarantee you'll get a spot.
If you're not a carnivore, don't fret; we've got you covered! Austin is a veggie lover's paradise. Aside from the vegetarian staples such as Bouldin Creek Cafe and Casa de Luz, almost every restaurant has options for you. And if you have any other dietary needs, most places can accommodate you; just make sure you let your server know.
One of my favorite restaurants near the conference hotel is Arturo's Underground Cafe. This popular local's spot hidden on West 17th Street is funky and fresh with quick service and quality food.
If you've listened to Garth Brooks' "Friends in Low Places" you might have heard the reference about The Oasis Restaurant, also known as "The Sunset Capital of Texas." The Oasis is one of the best places to get outside of the city to see Lake Travis and enjoy a meal and drinks while soaking in the bountiful views.
If you want to see the lake life but not travel out that far, just minutes from downtown is the Oyster Marina Landing. You can choose from Hula Hut or Abel's on the Lake for dining or Mozart's for coffee and/or gelato.
Options Close to the Hotel
Some of your other options walking distance from the conference hotel are:
Blanton Museum of Art. Six permanent exhibits of European, Latin American, Contemporary, American, and installation. Sometimes during a visit, there will be live music and/or a yoga class during normal hours. Admission is free on Thursdays and normally $12 for adults.
Bullock Texas State History Museum & IMAX theatre. For those interested in the spirit of Texas or curious about how Texas grew to what it is now, this is a must. This museum is full of special exhibits, rare documents, photographs, and artifacts all telling the stories that inspired this state to be what it is today.
Tour the Texas State Capitol. A must-see while visiting Austin to learn more about the history of Texas and to see this beautiful building. Admission is free and tours generally start every thirty to forty-five minutes, lasting thirty minutes.
The Austin Public Library downtown, also known as "Austin's living room," is definitely a place worth visiting. It is one of the most exceptional city libraries in the world. Every square inch was thoughtfully designed with balconies, quiet areas, meeting rooms, a rooftop lounge, and immersive children's areas. It even has a bar and restaurants (try the Huckleberry and Gin).
Present Day
Once a sleepy hippie town, Austin today is home to facilities for some of the largest and most influential tech companies in the world such as Google, Apple, Facebook, Dell, IBM, and more. One of Austin's nicknames is "Silicon Hills," adoringly after the influence of Silicon Valley tech companies.
Austin's recent boom put the city on the map as one of the best places to live and work. Some residents call Austin "Neverland" because it's a playground for adults to stay youthful.
Although Austin is changing, the reverence we locals have for it has only strengthened. It isn't the same city that it once was, but its magic and rich soul is undeniable. We're still friendly and have an open-minded outlook on life. It's one of the few places I've been where so many people can lead different lives harmoniously and let each other be.
Thank you for visiting my home city. I truly hope you enjoy your time here and if I can be of any help during your trip preparations, don't hesitate to reach out. Be well, do good deeds, and eat tacos.