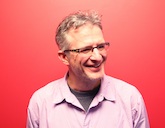 Bill Hartman is the Director of Research at Essential – a product, interaction, and service design consultancy in Boston. Bill has a broad background in user-centered design and has led multi-disciplinary programs in a range of industries. He has a particular interest in ethnographic research and collaborative design methods as means to humanize technology in compelling and differentiated ways.
Bill's design research and strategy work has helped providers of devices, systems, and services better serve the needs of their businesses as well as end users. His recent work has included building products, medical devices, web portals, mobile applications, online communities, materials-handling systems, consumer electronics, and pro-audio equipment.
Bill speaks at design and innovation conferences and is an adjunct lecturer at Bentley University in Waltham, MA. Prior to starting the design research group at Essential, Bill worked as an independent consultant, was a Vice President of Product Development at Fitch Worldwide, and was a Director in the user experience group at Scient/Razorfish. Bill is a graduate of Davidson College (A.B.) and the Institute of Design/Illinois Institute of Technology (M.Des.).
He is interviewed here by QRCA VIEWS Business Matters Editor, Kay Corry Aubrey.