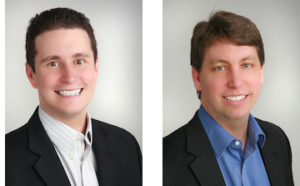 Sean Campbell and Scott Swigart are the co-owners of the Oregon-based company, Cascade Insights. Together, they have built two different businesses over the past 10 years, in the broad arena of technology industry- focused marketing and consulting.
Their first business, founded in 1999, was a technical consultancy whose clients included some of the largest companies in the software and hardware fields. While building 3 Leaf, Sean and Scott also wrote three books on best practices in the technology industry, two of which were published by Microsoft Press and one by Intel. After growing and developing the company over six years, Sean and Scott sold it and founded Cascade Insights.
Cascade Insights, founded in 2006, focuses on providing competitive intelligence, qualitative market research, and strategic marketing services to clients in the hardware and software industries so that they can more effectively assess, compete with and beat the competition. Most recently, they have written Going Beyond Google: Gathering Internet Intelligence.
They are interviewed here by QRCA VIEWS Podcast Editor, David Van Nuys, PhD