By the time you read this, I hope the first wave of the COVID-19 pandemic has passed for many locations across the globe. The last pandemic the world faced of this magnitude was in 1918, over one hundred years ago. This year, the research industry (like many others) has had to face serious challenges, both collectively as businesses and individually as solopreneurs or practitioners. Many are facing hard times with budget cuts and the loss of jobs, projects, staff, clients, and revenue. Anxiety is still high. It might be higher as the economy reboots. COVID-19 has impacted the way we live, work, play, eat, communicate, connect, and all those things that make us human. However, despite being under siege, we found ways to reboot too, connecting with ourselves, our loved ones, and helping our communities like never before.
Did you know that the first recorded notion of American volunteerism was logged in the early 1700s with Benjamin Franklin, who founded the first volunteer firehouse in Philadelphia, Pennsylvania? His idea was to help the local community. While the COVID-19 pandemic has changed us all, it also brought out the best in us. We voluntarily supported the vulnerable among us: the elderly, children who had no meals while school was closed, first responders, and delivery and service workers. Even big global brands were among the first to pitch in to make much-needed face masks, hand sanitizers, and ventilators.
So, what does this notion of volunteering have to do with your business? Helping others is the bedrock of QRCA and its members. As quallies, our job is to make that real human connection. We help our clients connect and empathize with their customers. We help our profession uncover the nuances that make us human and help our fellow researchers build communities.
While we perceive volunteerism to be about helping others in need, it also offers us an opportunity for transformation. Yes, transformation! Volunteering helps you through the mission of helping others to look beyond, to learn and discover new abilities, capacities, emotions, and strengths that you didn't know you had. It's transformative. It generates insights and creates a sense of hope for the future. Therein lies the crux of this article, transforming forward in hard times by giving back. The values and benefits of volunteerism have endured in spite of COVID-19, which has forced us into a new normal. Interestingly, it has sparked research colleagues to have interactions with people they might have never met if not for this circumstance, with new experiences on Zoom video calls, to keep learning about diverse audiences, communities and cultures, while providing stress and anxiety release. You help yourself when you help others.
Read on for four illustrative stories from colleagues who are active volunteers. I hope their narratives provide a kernel of wonder and admiration that inspires you to look at volunteerism in a new light. Tom Rich talks about his current volunteering and the sense of joy it brings him. Katrina Noelle shares her strategies on how to manage pro bono work for a nonprofit. Tamara Kenworthy reminisces about her inspiration for volunteering, and Pam Goldfarb Liss states the reasons she feels compelled to give back. 
Tom Rich
Principal, Tom Rich and Associates
Westfield, NJ
tomr@thomasrich.com
Our synagogue established a program several years ago to serve the large population of refugee families in our area. We provide them with English as a Second Language (ESL) education, tutoring assistance for their kids, life and job skills counseling, financial assistance, and various other services.
In addition to providing general help and financial support, I also teach karate to the children on Saturday mornings and have just started a self-defense class for some of the adult women. I'd love to tell you that I'm doing this entirely for altruistic reasons, but I'd be lying if I did. A good part of the reason I do this is I enjoy it, and it makes me feel good. That's an important thing to keep in mind during these trying times.
If you really want to take care of yourself, stop thinking about you and start thinking about others. John Donne, the English scholar and poet, was right nearly 400 years ago—none of us is an island. We're all connected, all a part of a greater whole, and another person's happiness or suffering is also yours. I believe that the true path to well-being and personal happiness lies in focusing yourself on the needs of your fellow human beings.
Katrina Noelle
President, KNow Research
Co-Founder, Scoot Insights
San Francisco, CA
kn@knowresearch.com
The team at KNow Research makes it a priority to give back to the community at large on an annual basis. Each year, we choose a nonprofit organization in need of assistance with gathering insights but without the budget to accommodate a full project, and contribute in the form of a pro bono project. At our annual off-site meeting, each member of the team submits their nominee from an organization that has a need for insights but doesn't have a budget for the work. We all vote to determine the beneficiary and create a team to gather the insights they need.
This initiative has many benefits, both for our team and the benefiting organization. We recommend adding this way of volunteering so you can:
Try out new tools and techniques or hone new skills
Develop a set of samples/examples you can share with prospective clients
Build a case study to present and/or publish
Help a worthy organization
Pull the whole team together on a common effort
Our 2019 project focused on the needs of caregivers. Our research uncovered the benefits that set our client, HUGS, apart from other caregiving support organizations. The clarity on these unique benefits will help HUGS position their program, communicate it across their engaged population, and create messages to expand their outreach, opportunities, and partnerships. In addition to giving HUGS communications and messaging recommendations to help them reach a broader audience, by emphasizing their human-centered approach to caregiving with an emphasis on caring, listening, and providing comfort, the KNow team learned a lot along the way as well. To find out more, read our case study here: https://knowresearch.com/knows-giving-back-program.
Tamara Kenworthy
Owner, On Point Strategies
Des Moines, IA
tamara@on-pointstrategies.com
I had a great role model growing up who showed me the importance of "giving back" and getting involved in our personal and professional communities—my mom. She was always volunteering her time while running our family's restaurant with my dad. She never ceased to amaze me on the stamina she had back then—whether it was leading my Camp Fire Girls group, baking for events at the church, or organizing a special event to raise money for her women's organization that did good things for the community.
While I was always traipsing along on her ventures, as a kid I truly didn't really understand what she was doing, but I must have been paying attention in some way as I realize now that I have followed in her footsteps. Getting involved in my community and with my profession is a key piece of who I am. I could go on and on about why volunteerism is important—and there are amazing quotes stating so. One of my favorites is from Winston Churchill, "We make a living by what we get, but we make a life by what we give."
One organization that I spend a lot of time with is Rotary. When I first joined Rotary, I took more than I gave and then realized I needed to step it up. After I had been involved in leadership for the club, I received a great research project with international reach from a fellow Rotary Club member who got to know me personally in a professional context. Rotary's mission is "Service above Self"—while building fellowship and getting to know members' vocations—a perfect example of a win-win situation.
I truly believe it is good for the heart and soul when we help others and lift them up—whether personally or professionally. We shouldn't forget though that there are also positive business outcomes that can come from volunteering—and it's okay to think about it like this.
Here are three aspects to volunteerism that I invest in that fuel my heart and can help with business:
First is something that guides me when I coach professional service providers on building their personal brand. I always encourage them to get involved with organizations or issues that they are passionate about. It's a win-win for everyone. You get to share your gifts with a group that is close to your heart. It's rewarding to be involved with a successful project, event, or issue that you have a personal interest in or connection to. You end up giving 110 percent and have a lot of fun along the way when you really care about the mission and the people you're serving.
Second, which builds on the first point, while sharing your skills on a board or committee, you are building brand awareness for your company and yourself in a way that is exponentially strong for service providers. We all know that word-of-mouth is the best way to get business, and those that see you giving of your time and expertise view you as a great human being who others should work with.
Third, I love working in the industry of market research and marketing strategy. I've always encouraged team members to get involved in their profession and the business community—to advocate for an industry that brings joy to them. We spend a great deal of time working, so we all have a role to make sure our industry thrives and grows. Whether it's been AMA or QRCA or the Chamber, etc., I've found these connections provide for a network of connectivity but are also the individuals and companies who can shed light on a new idea or recommend your services to others. Again, win-win!
As of this writing, my mom is on lockdown in her assisted living facility for protection during the pandemic, and while I shelter in, my only outing is to drive over and wave through the window. As we all continue to do what we can to get our communities and country back on track, I keep coming back to Rotary's motto: "Service above Self." It's always a win-win! Thank you, Mom, for opening my eyes and heart to giving back!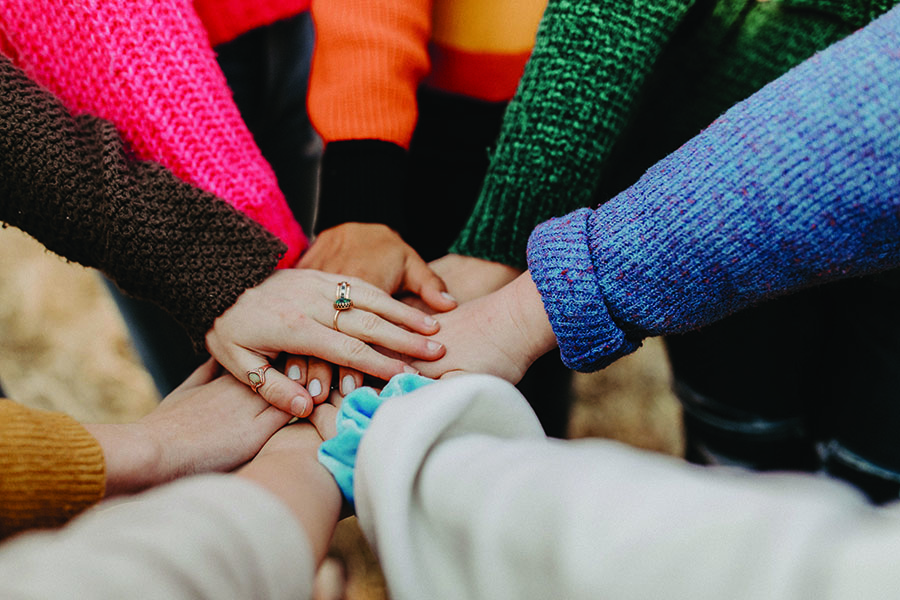 Pam Goldfarb Liss
Owner, LitBrains-Igniting Ideas!
Minneapolis, MN
pam@litbrains.com
We qualitative researchers know that community makes people thrive. I believe volunteering is part of creating a community. The question for many of us is how to add this to our very busy lives as businesspeople, parents, daughters/sons, husbands/wives, aunts/uncles, and so many other things we balance. For me, I feel when I volunteer my time, it helps me learn and increase my curiosity about something different that I would not have had the opportunity to do in my job. I personally like to volunteer in simple ways that convey my passions, such as being a friend to the elderly, helping clean up local parks in neighborhoods in need, mentoring young college graduates from local colleges who need an honest opinion about next steps and connections to get there, filling up food shelves, and canvassing to help people vote—which is another passion for me as it always feels good to help democracy in a nonpartisan way. Volunteering on a number of QRCA committees, and now as a member of the QRCA Board of Directors, is a way I like to give back to the professional association that has given me so much.
I volunteer because it's a social outlet and a great way to stay human. We all have our reasons, but for me, I always get more out of volunteering than I ever thought possible every time I'm able to volunteer my time. Here are my personal reasons for volunteering that I hope will encourage you to get more involved in your local communities and QRCA too.
Volunteers live longer and are healthier. In a recent Psychology Today article, I read that volunteers are happier and healthier than those who do not volunteer. In fact, it gives us more purpose, which in turn contributes to better quality of life and most likely longer life.
Volunteers create strong relationships. I've seen this firsthand with several of my elderly friends who I volunteered to visit over the past twenty years. My favorite elderly friend of all, Paula, had just lost her husband when I met her in 2005. She was lonely. Her kids wanted someone to connect with her as a friend—someone to take her places and get her out to socialize. The wisdom I gained from her friendship as she was dealing with the raw loss of her husband helped me learn more about the ideals in a true partnership. I truly credit her for giving me the guts to meet a nicer man that led me to meet my now-husband, Glenn. Paula passed away more than five years ago, but her imprint on me is still strong.
Volunteering is good for your career. Networking is never the primary reason to volunteer, but I can tell you that my mentoring a young college graduate entering market research or advertising/marketing has resulted in a new client several times. QRCA is another great way to volunteer and move your career. There are many wonderful veterans—older and younger professionals—in our community. This community has become family. I love it when I get to work with a QRCA member on a paying project, too. This year alone, I have had the chance to do so three different times already!
Volunteering feels like it's making a difference in society. It doesn't take a lot to connect anything that happened over the past year—COVID-19, the economic crisis, hurricanes, unemployment, etc.—to know that society needs a helping hand. We have seen that nonprofits, faith-based organizations, social service groups, and many other philanthropic groups are taking over where government programs leave off. By volunteering for these organizations, you can help society meet the needs of different communities, so people aren't left in need.
Volunteering gives you a great sense of purpose and self. There is nothing more rewarding than helping another person or group. I feel a sense of purpose and self-worth as a result. This is a powerful feeling. You can make a difference on a local level with your QRCA chapter as a chapter chair or even just planning one program during the year. There are many "bite-sized" opportunities with huge impact and smaller time commitments available. There are committees and Special Interest Groups (SIGs) that give you the chance to build stronger relationships that often grow into friendships and potential working partnerships.
Conclusion
Like Pam, QRCA is one of the diverse organizations on my list that I enjoy helping. I wear many hats as a Metropolitan NYC Chapter leader, a board member, a Connections editor, and a VIEWS feature editor. The reason I do all this is that I believe it's important to stay connected and give back. More important, to echo what Pam wrote, I also believe that it's important to set an example for those joining or thinking about joining QRCA, the next generation of qualitative leaders, that volunteerism can transform their lives and career trajectories.
On a final note, similar to Tamara's inspiring story, my grandmother volunteered at our local church every day and more. She cooked and provided many, many Thanksgiving meals for those less fortunate in the village where I grew up. My grandmother's actions still inspire me today. She never demanded that others join her in acts of kindness. She had a simple desire to help those around her. For her, actions spoke louder than words. She lived it. So, I encourage all of you to "live it." Share your skills, talents, friendship, and empathy with others that could lift us all up. As we each climb out of the COVID-19 darkness together, make volunteering a priority. I think of a saying attributed to John F. Kennedy in a 1963 speech that is still apropos decades later—a rising tide lifts all boats. Be part of that tide!
Volunteer for a QRCA committee, or be a board member or chapter leader. Be someone who isn't afraid to lead and lift themselves and others to achieve their potential. A great place to start is by visiting www.qrca.org and looking for the contact information of your local chapter leader. Another way is to contact QRCA's matchmaker, Jeff Walkowski, at jeff.walkowski@qualcore.com.