Brands' appreciation of diversity and inclusivity in communications is crucial to staying relevant and relatable to their target audiences. As researchers, our jobs often involve helping brands understand their audiences' reactions to marketing and advertising through this lens. Does the brand sound authentic? Is it relatable? Does it seem genuinely in-touch or is it trying too hard?
While keeping up with changing expectations about how to represent society, we've seen brands come up against conflicts of proportionality—finding the right balance between the real and the ideal in authentic ways. They struggle with whether their roles are to be objective reflections of the world around them or change conduits that showcase groups that have historically not had much media presence.
Over the past year, several projects across a wide range of industries allowed us to see how messaging and imagery can cause brands to succeed or fall short of representing the world around them.
Why Should Companies Be Concerned about Diversity and Inclusivity?
Our experiences suggest that brands prioritize diverse and inclusive representation for the following reasons:
A desire for marketing to reflect the real world or an idealized view of it.
A recognition that everyone has biases and a belief that more exposure to diversity can help mitigate them.
An awareness that diverse representation is what industry and society expect from the brand.
A belief that showing and including more diversity in the workplace and in advertising will help its reputation and success.
It is also important to realize that the prominence of diversity in advertising is a global trend, with brands often taking different approaches in different countries. For instance, Brazilian marketers showcase more racially-diverse models, same-sex couples, and people with disabilities, than those in the U.S., U.K., Australia, and Germany. Marketing in Britain often uses more gender fluid, androgynous, nonbinary, and non-professional models in campaigns.
Undoubtedly, the shadow of a country's history is a major influence on the present-day role of diversity and inclusivity. However, what is appropriate is fluid and can quickly change due to current events, such as a racially-tinged incident or a new law. Before discussing any work, it is critical to understand the current "pulse" of inclusivity and diversity independent of the brand.
Similarly, demographics are at play for diversity and inclusivity. While the most avid supporters of inclusive marketing skew younger, the trend is still widespread generationally. Across the U.S., U.K., Australia, Germany, and Brazil, nine out of ten Gen X and millennial marketers believe they are expected to include more diverse representation in their campaigns, and 88 percent of Gen X and 90 percent of millennials believe that diversity in marketing helps a brand's reputation.1
Working with Clients—Best Practices to Ensure Success
We have identified four best practices that show how research consultants can successfully guide brands through what often can be emotionally and politically charged territory.
Best Practice 1: Find the balance and don't forget the goal.
A brand may want to promote its diversity-focused values and inclusive outlook. And while it can and should celebrate those components of its story, advertising's primary focus should be what customers want—how the product or service will personally affect them and their communities.
Unless diversity itself is part of the core, it should be a supporting point to authentically reflect a brand's core values without overshadowing its overall offerings.
Example: Rihanna's lingerie brand, Savage X Fenty, is a hit with millennials and Gen Z consumers in part due to an identity built upon the concept of inclusivity. As Rihanna herself said, "Last year, we laid the foundation for what the brand stood for. Here's our bottom line: We're inclusive. We want women to feel confident no matter what size they're in. This year, it was about: How do we expand that? How do we make more women feel more confident?"
Lead with consumer benefits, supported by policies and practices. It is all about supporting without overwhelming the key attribute of your program, product, or service.
Best Practice 2: Be authenticby showing and telling.
A brand may struggle because its customer base is not as diverse as it thinks it could be, or perhaps is just not recognized outwardly for being so. Managers may wonder what's standing in the way of additional audiences connecting with the brand.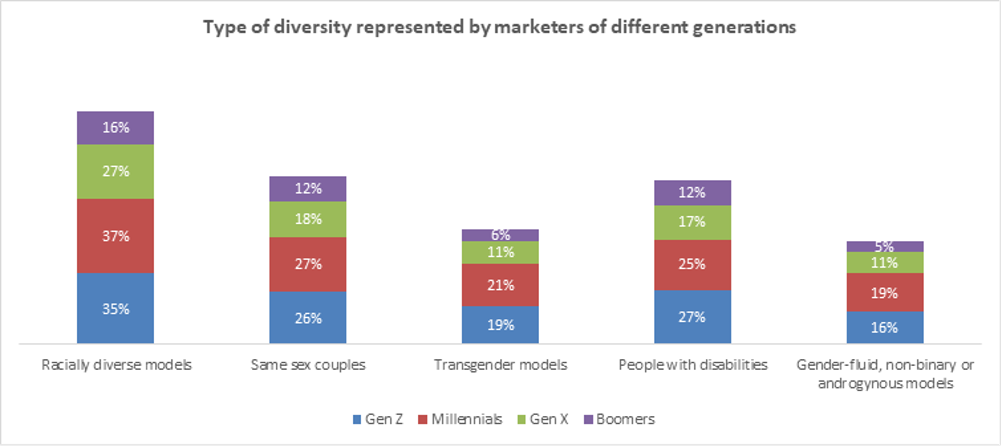 Example: In the nonprofit sector, connecting with diverse communities is often essential and frequently challenging. One of our nonprofit clients recognized a lack of diversity among its donor base and engaged us to conduct research on its website and print collateral. While the materials did include imagery representing the actual customer base, they still came across as staged among participants who were not intimately familiar with the nonprofit.
Customers appreciate seeing marginalized and/or minority groups, but images must be authentic. Compelling storylines and statistics can prove diversity and support images.
Best Practice 3: Unify rather than divide.
Brands often want to lead with a message that helps them connect with all audiences—a challenging task when audiences look for more and more personalized messages. To convey a universal message: participants frequently recommend a path to connection via a common interest, a need, or experience, and delivered through universally appreciated means, such as humor.
In this tumultuous year, we have seen countless examples of unifying messages: the challenges of working from home, keeping your family amused while sheltering in place, homeschooling, virtual happy hours, and exercising indoors. As the world shifts, brands should be on the lookout for other shared experiences and commonalities.
We have also seen the reverse. Messages that make overt political or social references in an attempt to showcase diversity can have a divisive effect.
Example: This year's Super Bowl halftime show and its spotlight on Latino culture may have been an attempt for the NFL to rehabilitate its image, as well as make an artistic statement on the United States' immigration policies. Coke's "revival" Super Bowl spot sought to depict America's melting pot but backfired with conservatives who considered it divisive, resulting in a social media backlash, #BoycottCoke. Whatever the NFL and Coke's intentions may have been, not all fans felt politics deserved the stage during the big game.
Best Practice 4: Question whether you are helping or hindering diversity.
Undoubtedly, it is difficult for the solo qualitative practitioner to turn down work. However, when it comes to diversity and inclusivity, sometimes that may be just what needs to occur.
Before undertaking any project, ask yourself:
Am I right for the project?
Would it be more beneficial for the moderator to be in the same ethnic, gender, or sexual orientation group as the participants, or will being different and having an outsider's perspective benefit the project?
Example: We recently researched how donations to a nonprofit varied among three distinct ethnic groups. Given the sensitive and personal nature of the topic—and that the study objectives aimed to unearth cultural or community-driven influences that might help explain disparities—we used moderators who mirrored each target audience. As fieldwork ensued, our decision was quickly validated. It became clear that some culturally nuanced details that participants shared likely would not have come out if they were not able to personally relate to the moderator. Furthermore, moderators were able to use colloquialisms and shared cultural references that led to more intimate stories and insights.
QRC Takeaways
Diversity and inclusivity trends ebb and flow, and often reflect changing political climates. However, history shows the inexorable march toward a "smaller" and more diverse world.
As qualitative researchers, we must understand that diversity and inclusivity are not simply standalone topics and projects. Rather, they must be integrated into all of our work. Understanding how to leverage diversity and inclusivity for our clients' success can make us invaluable resources.