Have you ever experienced the joy of bringing diverse perspectives together to form something totally new? It's a rush. That's the beauty of effective co-creating. It can take seemingly disparate ideas, perspectives, and instincts, cobble them together, and presto! A novel, sophisticated solution is born. An effective co-creation facilitator guides the process and harnesses the group's energy like a conductor leading a symphony. Just like a symphony, body language, deep listening, and complete engagement bring the group in tune and working toward a common goal.
Virtual co-creation can strip away many of the empowering elements of collaboration. While you can see expressions, other body language is difficult to judge, at best. Maintaining control and ensuring participants do not get distracted are no small feats.
So, does all of this bode poorly for remote collaborations? It does not have to! You can still reach masterful solutions through virtual co-creation by adjusting your approach. It means adapting techniques, modifying the facilitation process, and fully embracing technology. The results can be well worth it.
But how exactly do you tackle this modified approach? In the spirit of co-creation itself, I have taken my own experiences and melded them with ideas, tips, and best practices collected from fellow facilitators, researchers, design thinkers, and innovators. The result is a compilation of best practices that can guide us all.
Give Process Its Due
Rigorous process can often seem like the enemy of creative thinking. In a virtual environment where no one is in the same place, however, process is critical to maintaining control. You can overcome the digital gap between you and the participants by establishing a clear and simple process with roles, rules, and guidelines. Whether your process is creative problem solving, design thinking, appreciative inquiry, agile, or something else, everyone must understand and adhere to it.
Successful virtual co-creation requires military-style planning. Consider every detail, have backups, but also be prepared to accept some outcomes as "good enough." It is far more difficult to pivot on the spot in a virtual environment, so map out your session plan in great detail with the following steps:
Align the team on key data and objectives before the session.
Clearly communicate the time commitment involved and whether they should expect recurring sessions. Remember, simple activities can often take much longer in a virtual environment than in the real world.
Err on the side of over-communicating reminders and instructions. It is easy for people to miss key emails or not comprehend everything required of them at first.
Reflect on all the possible hurdles that may arise, and provide backup plans.
Treat yourself with grace by being flexible when things aren't executed to perfection. (They almost certainly will not be!)
Don't rush the debrief. Allow enough time to review the session with the entire team thoroughly. You can start with an exercise that encourages everyone to add their key learnings and collectively build upon them. Then, bolster these takeaways using accountability partners and/or immediate next steps.
If you want to personalize the session results, send a care package and a summary, including next steps and the details for your next session.
The Big Decision: Picking the Platform
Imagine the virtual co-creation platform as the easel board in a face-to-face meeting. You can easily transfer (or at least adapt) any exercise that you would typically perform on an easel to a co-creation platform.
So, which platforms stand above the rest? Among consultants interviewed for this article and based on personal experiences, three co-creation platforms rise to the top and all for different reasons. They all provide tools for virtual collaboration, facilitate asynchronous activities, and work well for qualitative activities such as collage, forced connections, day-in-the-life, and persona building.
Miro
Pre-built templates, handy features such as sticky notes, the ability to import media, and many more unique features make Miro (www.miro.com) a worthy tool for virtual collaboration, especially for researchers who need to export text data for analysis to Excel or Word. Miro has an attractive and well-organized interface with sharp icons, good type handling, and an intuitive layout. It is particularly helpful for qualitative activities like mind mapping (Figure 1).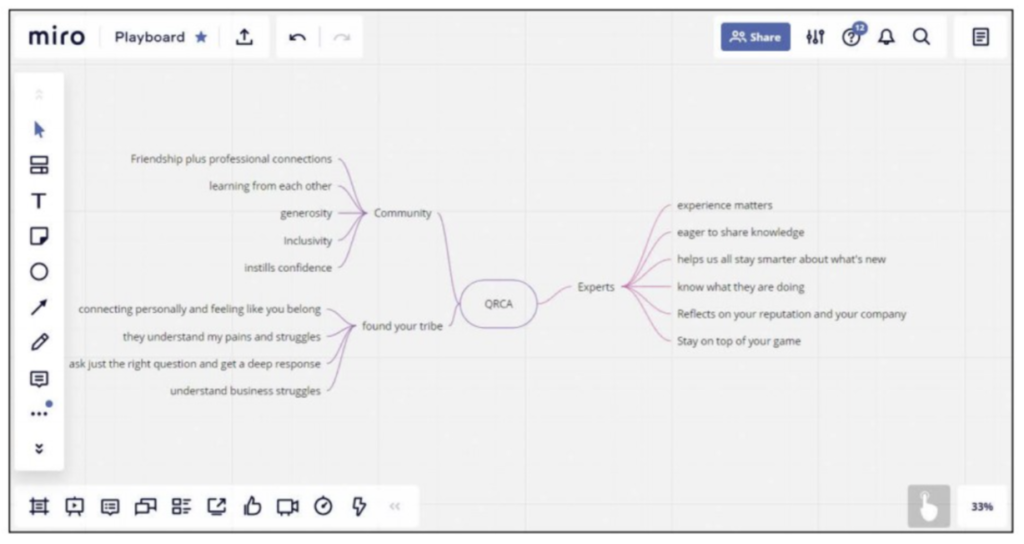 Mural
An infinite whiteboard that can make anyone feel like an artist is the hallmark of Mural (www.mural.co), although like liver and onions, the interface (described as "quirky" and "artistic") is an acquired taste.
Mural whiteboards offer resizable sticky notes and an extensive library of templates (example: Idea Prioritization, Innovator's Compass, Collaborative Prototyping) that design thinkers will love. The platform works exceptionally well for free association and collage exercises that use images. Before a session, facilitators can upload a curated assortment of photos, thereby saving participants from spending inordinate amounts of time sifting through irrelevant items (Figure 2). You can also add a template background, such as an illustration customized for your project (Figure 3).

Stormz
For text-heavy work, Stormz (www.stormz.me) is ideal. You can easily create cards, insight clouds, and clusters. Furthermore, the simple interface makes setup and navigation a breeze. When it's time for a poll, votes get tallied into a chart similar to an online bulletin board. Stormz has different creative problem-solving templates and exercises, which are a huge draw for facilitators. Qualitative researchers love adding images to represent emotions or for projective techniques (Figure 4).

However, before deciding, consider whether your team has a favorite process (i.e., design thinking versus creative problem solving), and choose a platform that will accommodate it accordingly. Use the information in Figure 5 as a starting point for your explorations and get creative with adapting them to your unique needs.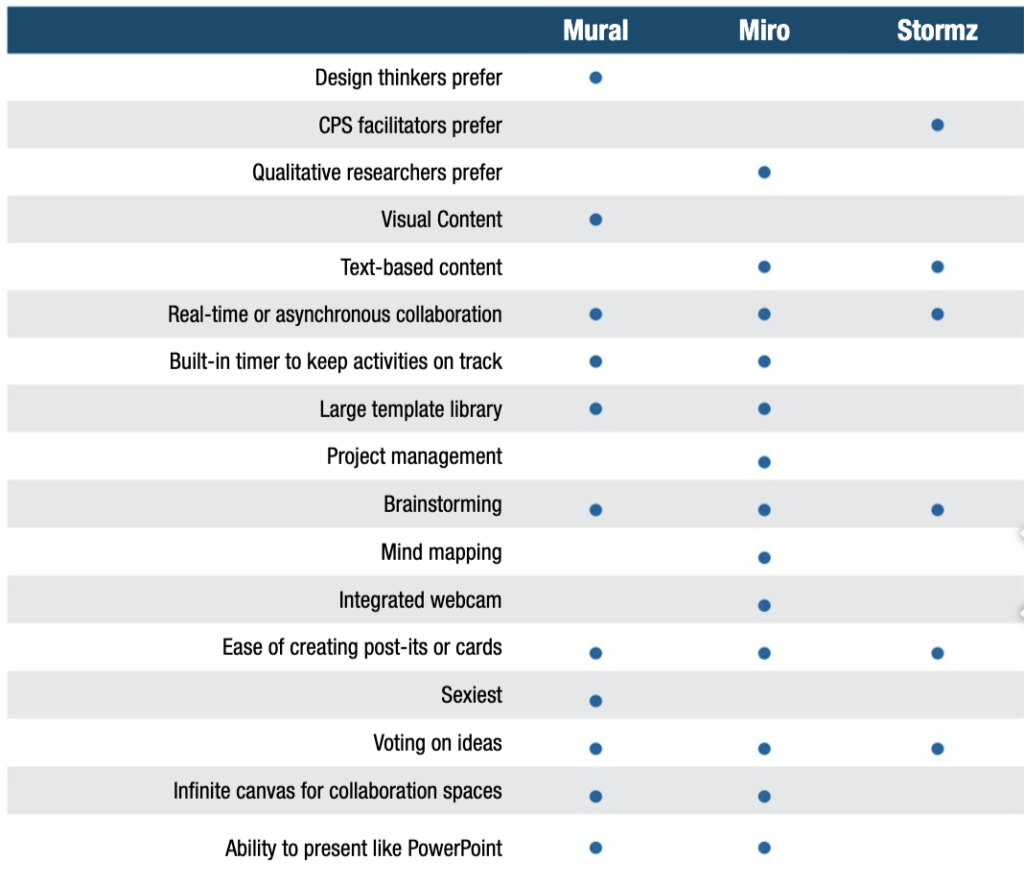 Video Conferencing Tools
Except for Miro, which has webcam integration, platforms require a separate videoconferencing technology such as Zoom (www.zoom.us) or Microsoft Teams (www.office.com). Each platform has its own set of pros and cons, but all of them have a generally similar array of features. Zoom offers several tools that work well for co-creation, including:
Breakout rooms for small group activities
Annotation for quick group voting, drawing, and adding brief comments
Polling for more formal voting and receiving quick feedback
Built-in chat that offers less-vocal people a chance to express their ideas, thereby ensuring everyone gets equal "air time"
Although videoconferencing has become mainstream, it can still be a challenging experience and requires careful management to keep things running smoothly:
Create simple instructions and have them ready when needed to explain the various annotation, mute, chat, and polling features.
Ask people to use the mute button when not contributing (or mute them as the session leader) to avoid disruptive background noises.
Encourage everyone to be mindful of body language when ideas are shared, as participants should be able to at least see facial expressions up close.
Talking over one another will happen, but attempt to minimize it by asking people to raise hands on screen or using the built-in tools that some video conferencing platforms offer and, when necessary, calling on them to speak.
Consider sending a short video before the session with guidelines so everyone knows the "rules" from the start.
Embrace Technology!
Once you have settled on a platform, fully embrace its strengths. Even more importantly, plan around its potential weaknesses. Nothing can derail your virtual co-creation like a technology fail. To account for this, anticipate any potential glitches that may arise before the session. To help you cover all the bases, consider the following steps:
Explore firewall restrictions that could prevent some participants (especially those at large companies) from accessing the co-creation platform.
Understand your participants' comfort level with technology and the sophistication of the platform:
o  Teams comfortable with technology may be fine with some clear instructions and/or a fun warm-up exercise to become familiar with the platform.
o  Teams uncomfortable with technology may need you to "drive" the platform by adding their contributions to it.
You may be tempted to go it alone, but think about whether you would like someone to support you with the platform. Based on the session's complexity, having a helper to handle the technology questions, support participants, and assist with breakout rooms will free you to focus on facilitating. 
Adapt. Modify. Repeat.
The kind of deep thinking that co-creation invites can quickly lead to cognitive drain, no matter whether the session is in-person or online. Technology, with its inherent hiccups and the inability to keep people free of distractions, can often exacerbate it. Counteract "brain drain" with engagement activities dotted throughout the session using the following guidelines:
Start with a bang and maintain the pace. To keep people engaged from the beginning, use an icebreaker. Not only can it help everyone get to know one another and feel more relaxed, but it can also give them a chance to get comfortable with the technology before you really jump into the session. Have people incorporate tactile elements from their surroundings, such as sharing an object from their environment to represent a thought or feeling.
Consider activities that invite multiple forms of expression. Think of your session activities as the key to keeping people engaged, energized, and collectively moving toward the goal. For example, roleplay exercises encourage people to move around (even if they are by themselves!), feeling more engaged and energized. In contrast, prototyping in a small group invites deeper thinking. Remember, simple activities will be easiest to explain and execute (a must in short virtual sessions!).
Think of participants as virtual dots that need continuous connection. The essence of co-creation is the connection between the people involved. Maintaining those connections with deliberate activities is the difference between an okay session and a superb one.
Use upbeat music as a bridge, creating a sense of all being in the same room.
Ask participants to share something from their environment to get to know each other in a more personal way.
Encourage everyone to have fun snacks or comfort foods on hand—food is the ultimate human connector!
Send your participants a goodie bag with a short activity or session description to heighten their anticipation.
You have plenty of tools in your arsenal to shake up the straightforward (read: unengaging) delivery of virtual content. So, use them! We must get creative to maintain connection at the heart of co-creation.
Variety is the spice that makes it all happen. Varied engagement formats (chats, small group breakouts, large group activities) will make people feel like they have connected with everyone else. Additionally, a combination of synchronous and asynchronous activities (i.e., virtual parking lot, homework, or any pre-session activity) can take advantage of thoughts that may not come out exactly when you need them to.
Remember, Content is King!
Careful planning, along with the tools presented in this article (and many others not covered), means virtual co-creation no longer has to play "second fiddle" to in-person sessions. However, avoid getting too wrapped up in the technology or a specific platform—both should be in service of your content and not overshadow it. By implementing the best practices outlined, you can become the conductor to your team's fine symphony, playing in harmony to reach a sophisticated solution.
Contributors: Clay Bunyard (Kimberly-Clark), Sari Gluckin (Wishful Thinking), Susan Newhouse (Susan Newhouse & Associates LLC), Leo Chan, Shaili Bhatt (C+R Research), Mary Ellyn Vicksta (Vicksta Innovative Practices LLC)