When I was a kid, I loved playing baseball. My love of the game came from my father, who would take me and my twin brother Jimmy out to the backyard and play catch or, time permitting, a three-person game we called Roy Hobbs, named after the protagonist in The Natural. Dad was always the pitcher while Jimmy and I took alternating turns at bat and fielding, and whenever I had two strikes against me, the curveball was dad's go-to pitch to get me out swinging. Curveballs have been on my mind lately because if there's anything that 2020 taught us, it's the importance of being able to hit one.
My company recently completed some work exploring the impact the pandemic has had on people and their everyday lives. This wasn't client funded; we were simply curious about how people felt regarding the pandemic and their thoughts regarding the future. As such, we held online real-time Curiosity ConversationsTM with men and women of various backgrounds and ethnicities from all over the country and believe that the insights uncovered can have a significant impact on our clients' businesses. Three key findings from this exploratory research are:
The COVID-19 era has increased fear, uncertainty, and anxiety among consumers. Additionally, actions put in place to control the pandemic have led to perceived limits on our freedoms.
The impact of the pandemic, however, is not all bad. For many, it forced us to slow down, spend more time at home, and simplify. Looking forward, people have a renewed sense of optimism and hope for unity.
While we are living in an overwhelmingly digital world, consumers are eager to get back to seeing people face-to-face and experience the world "in real life."
Challenges Abound
One of the exercises we asked each participant to complete before the interview was to find some pictures that represent their emotions during the pandemic. During the interview, we probed into what each of these pictures represented. Not surprisingly, some of the initial images shared were negative and include:
Fear and anxiety over the health of self and others
Confusion and uncertainty about what's to come (and what to believe)
Sadness around being separated from family and friends and missing out on key events (graduations, proms, holidays, etc.)
Frustration around how not everyone is doing their part
A belief that kids are not learning as well at home
Challenged by the stresses of working from home
A common observation among the people we spoke to was that previously simple decisions had become much more complex. Actions such as going to the grocery store, taking a child to the playground, or deciding whether to attend a youth sporting event have led to unprecedented discussions with partners/spouses. As a result, people are keenly aware of how they used to take the act of making very simple decisions for granted.
"We now have the added stress of what used to be simple decisions. Now I have to ask myself, should I go to the store? Should my son even come home for Thanksgiving?" — Female, 40s, Champaign, Illinois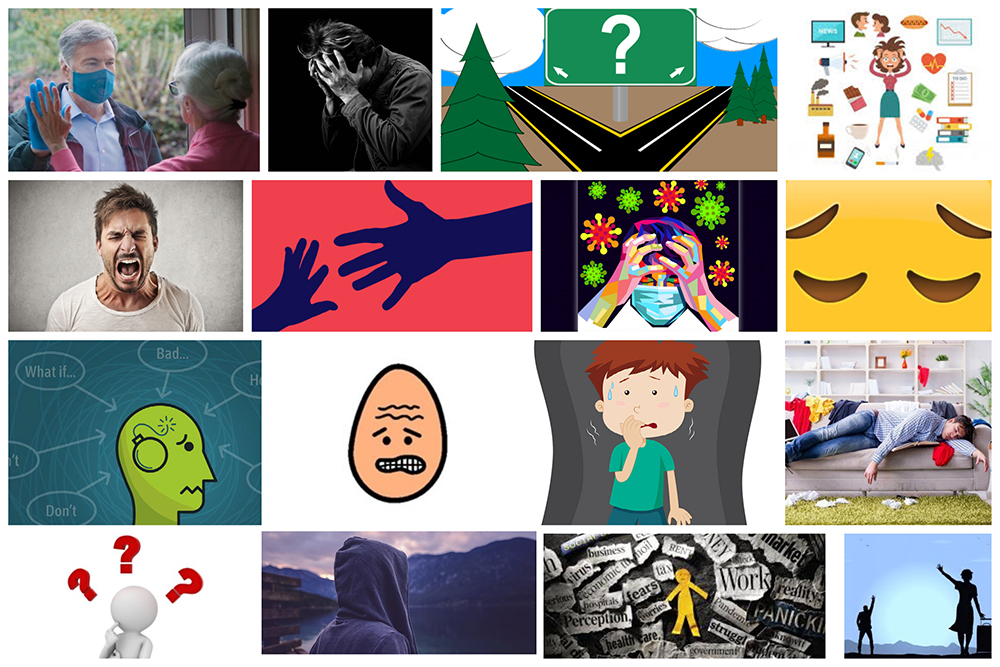 It's Not All Bad News
While negative emotions were prevalent among the people we spoke with, it is important to note that they were not dominant. In fact, many of the people we spoke with were emphatic that the pandemic has led to some positive outcomes including:
A forced "slow-down" that made them realize how badly they needed to simplify their lives
More time at home with the family
Saving money (less driving, more meals at home)
Time to reflect on what they are grateful for
Greater communication with those inside and outside of their homes
More intentional decision-making around the things they shop for
A newfound appreciation for frontline workers
Time to explore hobbies and outdoor activities (i.e., hiking)
Time to make positive changes in their lives (losing weight, reconnecting with their faith, etc.)
Enjoying the flexibility of not commuting (and time saved)
Learning new skills (i.e., home improvement, cooking)
Participants described these realizations as life-changing and believe that they will continue to embrace some of these changes even when the pandemic starts to become a memory. Namely, they mention wanting to continue living life at a slower pace, setting aside time for personal growth/reflection, spending more time with their families, and being more conscious about balancing needs and wants when it comes to spending.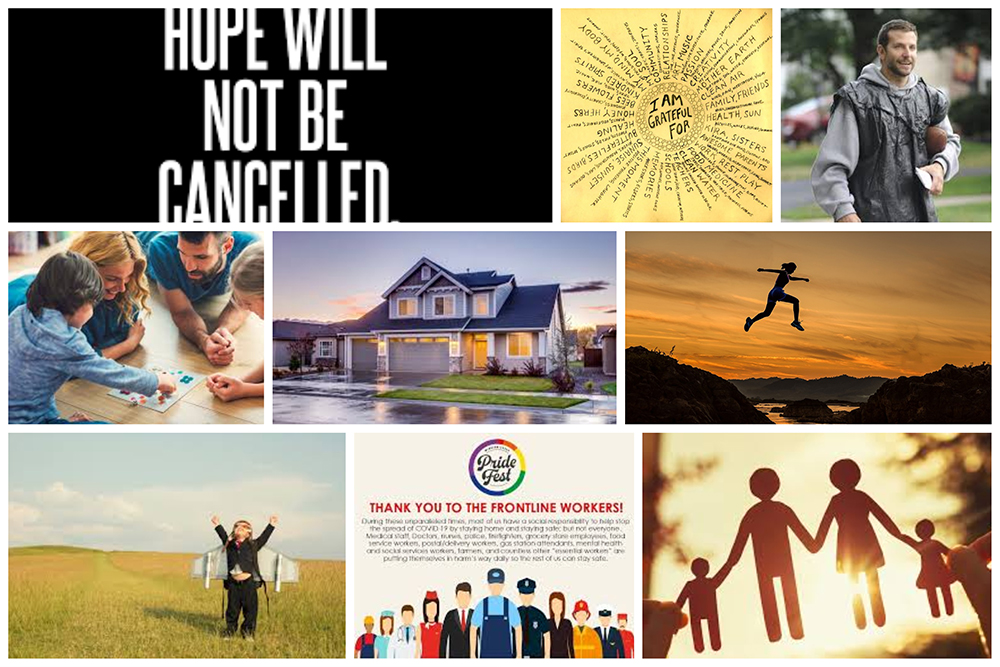 Freedom, Strength, and Unity
We also asked people to anticipate the emotions they will experience after the restrictions from the pandemic ease up. Through probing we uncovered that pictures they shared served as metaphors around three emotions: freedom, strength, and unity.
Freedom to travel (near and far) with less fear and greater peace of mind
Joy and happiness that come with spending time with loved ones (and hugging them)
Pride in feeling that we've overcome something tragic as a nation (and hopefully more unified as a result)
Reenergized, as if they are willing to take on the world again
Excited for new experiences
Stronger as a family, community, and society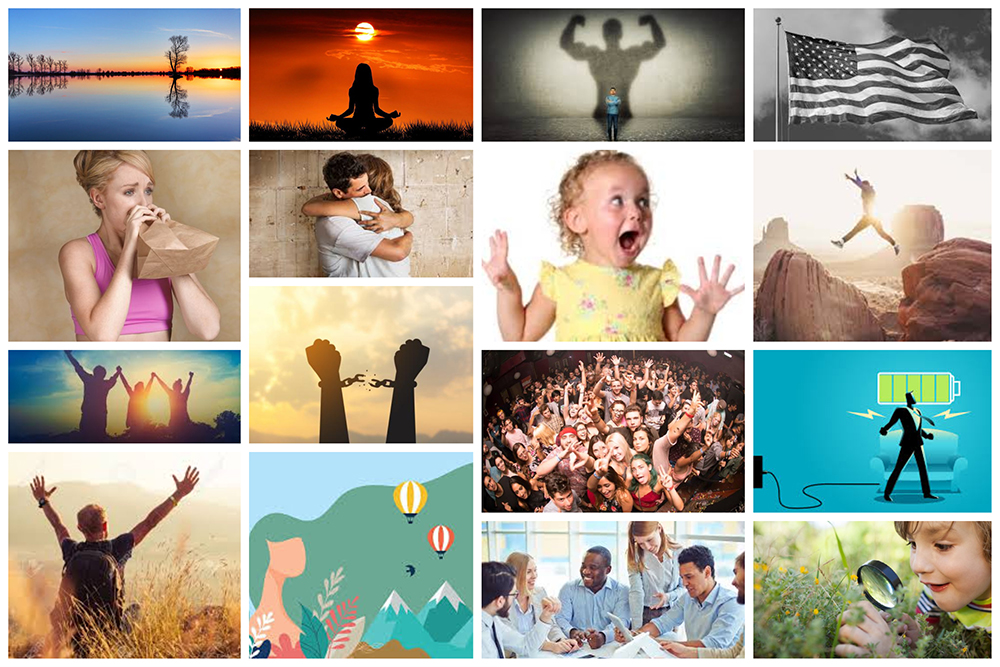 Reconnecting with Family
When asked to prioritize how they will act on their newfound freedom, participants overwhelmingly stated that the first thing on their list was to visit family that they have not been able to see since the pandemic began. For most, this included short road trips to visit aging parents and grandparents.
In addition to seeing family face-to-face, leisure travel was high on the list of things to do, as most stated they had to cancel trips planned to happen during the pandemic and are eager to take those vacations with their families. Importantly, people also want to use their rediscovered freedom to do local activities, including taking children to zoos/museums, attending happy hours with co-workers, going to a bar to watch a game, and attending sporting events/concerts.
"I am going to give every single stranger on the street a big hug." — Female, 20s, Los Angeles, California
Implications for Marketers
While the global COVID-19 pandemic has thrown significant curveballs at consumers, many have found ways to adjust their lives so as not to strike out. It is important to recognize, though, that marketers have had to pivot as well to adjust to the challenges brought by the pandemic. For many of our clients, this meant halting spending on advertising (travel and hospitality clients), retooling production lines and supply chains to meet increased demand (CPG clients), and investing in signage, digital displays, plexiglass barriers, and mobile/online ordering technology for in-store/curbside pickup (retail and restaurant clients).
While promises of a vaccine have brought renewed hope to consumers and marketers alike, I believe it is important to acknowledge that the pandemic experience will impact consumers for years to come. When it comes to communications, I believe that this will significantly impact both messaging and tactics.
Marketers should consider removing the word "normal" from all communications. Instead, those who tap into newfound consumer sentiment around living more simply, embracing family, unity, strength, and rediscovered freedom will strike a more emotional chord in consumers than those who focus on the world of getting back to normal.
When it comes to freedom, think both big and small. Yes, consumers are looking forward to taking those big trips again, but they can't wait for the days when they can go to a grocery store, restaurant, or playground without feeling as if they are making a tradeoff between something they want/need to do and their health and safety.
In terms of tactics, marketers should keep in mind that, while digital communications gave consumers a lifeline to ordering goods/services in a safer way, as well as to friends/family, they are eager to get back out into the real world. Increasingly, digital communication tactics should complement and not replace real-world touchpoints.