By Rita Klebonaite, Synthesis Consulting Group, Vilnius, Lithuania rita@synthesis.consulting
How It All Started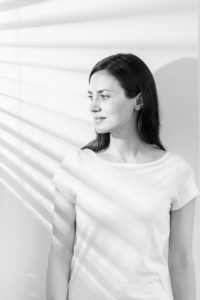 I fell into a research career back in 2014 when I joined a media agency in Lithuania, a small country in Northern Europe. As the country is young—it counts thirty-one years since independence from the Soviet Union—so is the field of Lithuania's market research. When I began, Lithuanian marketers were more likely to use their intuition than rely on research data or any form of research. I am a numbers person, so providing data on brand and communication tracking studies became my focus, but I felt that something was missing and that qualitative research could provide the answer. My move to London in 2016 provided the perfect opportunity. 
In London, one of my first encounters with qualitative methods was when I observed an eight-person focus group whose focus was capturing feedback on a commercial for a new financial service in Leeds, U.K. The participants' discussion around their financial needs, the discomfort of borrowing money, and the pain of the constant reminders from the bank resonated with me. I began thinking, "I know their pain. There is a solution because financial brands in Lithuania had already been addressing these pain points." 
With that thought, my view of what the focus group was about shifted. Instead of just focusing on participants' reactions to the commercial, I was also looking for cues to see if what worked in Lithuania would work in the U.K., observing differences and focusing on comments that were new to me. This way I could add a few additional questions to the discussion guide and later ace the analysis, as I already had a framework in mind for interpretation. 
That was the first time I realised that for any problem you face, there is probably someone somewhere in the world solving a remarkably similar one. Why not capitalise on this? When I got back to Lithuania in 2019, I decided to further explore this possibility. 
Global Trends as a Basis for Research Framework
At Synthesis Consulting Group, we help clients formulate and execute brand, product, or sales strategies. To base strategies on solid consumer insights, we first turn to other markets for inspiration, putting clients' business issues and challenges in the context of a global perspective, where we can learn from global trends. 
The benefits of global trends analysis are twofold. First, it helps clients broaden their views and gain inspiration from their counterparts in different parts of the globe. Second, it gives focus and direction for the research team, as researchers show up to the research challenge armed with possible issues and solutions while still keeping an open mind for any new possibilities. In other words, while scanning for global trends, we not only define boxes to be filled during focus groups or interviews but also create hypotheses of what will be inside them. In this way, we have a laser focus on the key issues and hypotheses to test. 
For example, one of our local banking clients wanted to improve their customer experience by taking advantage of their customer service channels. We immediately knew that the first step should be to look at the banking sector worldwide and spot any initiatives that could be adapted in Lithuania and, for that, we used our five-step approach to using global trends for local insights.  
Business Challenge
Clarifying the business challenge is the first step of any kind of marketing research. It's no different with trends—we need to narrow down what specific elements we are looking for in the sector worldwide. 
In our case, the banking client faced a dilemma—as consumers become more comfortable with digital services, should the bank optimise and close most of the physical branches or find a better use of them and avoid downsizing? In fact, the client was in favor of maintaining the physical branches, so the real questions were: How do we maintain physical channels in the age of digitalization? Which financial services are least affected by digitalization? How can digital services be combined with physical locations? What are the innovations in the financial sector of customer service? 
Having outlined the main questions, we set off to look at the trends. 
Trends
You could spend months just browsing online for official statements, articles, social media posts, industry analysis, and other information to draw a detailed picture of the industry's current situation and future direction. However, no one has time for that. 
We streamline our process and stick to the three main sources: 
Major industry players.

These are the biggest brands in the category. Because of their size, they are usually setting the standards for the whole category. The data on them are generally available publicly—for example, in their annual presentations for stakeholders. The trick here is to not only look at the dominant markets, but also check the large players in smaller countries, as they sometimes offer very original solutions. In the case of the banking sector, we made it a point to include two close neighboring countries—Estonia, known for its digital savviness—and Poland, the largestneighbouring European market. We also picked the U.S., U.K., France, and China to get a broader perspective. We found, with no surprise, that while cutting the number of physical channels, most of the biggest chains were not going to extreme measures. In fact, they were either redefining physical offices as advisory centers or even utilizing them as a channel to teach their customers about using digital tools.

 

Emerging start-ups.

We also looked at the start-ups to identify category innovations and guide us on what potential benefits they could bring, and better understand what services/functionalities they are replacing. There are various start-up databases to look at; my favorites are Crunchbase and CB Insights due to the depth of their reports and insightful comments on how innovations are shaping the whole industry. Looking at the banking industry, we saw that emerging B2C financial services tend to drop traditional client service channels and focus on online interactions, enabling users to find answers to their questions and solve problems on their own. Phone calls are being replaced by chat messages. This was another warning sign that physical contact is losing importance.
Major consumer trends.

 You also need to look at how consumers are reacting and identify the major shifts in consumer behaviour and mindset. I usually go for McKinsey reports and opinion articles. I even regularly check their 

Featured Insights

. 

Think with Google

, a free source, also provides insights into consumer behaviour. While I have created my list of favorite valuable sources, I check other people's collections—for example, Ilya Petrov's (https://ilyapetrov.com/trends). For our banking sector case, we saw that with information overload, people are seeking advice from experts they can trust. It's a paradox: while consumers are being enabled to make the decisions themselves, people are seeking even more confirmation that their decision is indeed the right one.

 
After the exploration of what's trending worldwide, we were able to confirm that the physical channels of financial services are changing, but they are not fully replaced. There is a strong push for digital services, yet at the same time, the financial services category is related to too many fears that demand face-to-face interaction for reassurance. 
However, we needed to test these findings locally. 
Hypotheses
Ideally, the trends analysis will provide a list of assumptions to test. So, at the hypothesis stage we draw a rough draft of what the category looks like and what it is moving toward, and we then verify this sketch with the real local consumers. This whole exercise transforms a primary research problem from being explorative in nature (exploring opportunities for a bank to utilise their branches) to more of a validation research project (validating whether any of the already existing approaches could be adapted to the local market). 
For the banking industry, we needed to test if the fears related to financial services were universal, if face-to-face meetings were the best way to comfort the consumers, and if they were going to find any of the branch transformations relevant. 
I find building out the assumptions especially helpful, as it is easier to figure out if a global picture matches a local perspective and which parts differ, rather than having to draw the whole picture from scratch, just from the interviews with consumers. Especially when both timing and budget are tight.  
Testing the Hypotheses
Once we have clarified our hypotheses and then listed remaining questions, we plunge into the local market consumer research. Our go-to method is semistructured interviews because they also leave room for one-on-one concept exploration or observations. 
Observing how people interact with information online provides deeper insights on the main pain points of customers, as sometimes people get intimidated by the language used in the brand websites, or they get lost comparing different options, facing issues they can't articulate or finding them hard to understand. Therefore, in addition to the interview, we decided to also ask respondents to find a specific answer online or evaluate a brand's website. 
So, in spring 2021, when it was possible again to do in-person research, I conducted interviews with bank customers and heard their pain and fears while nodding in recognition of the universal nature of what I was hearing. When it comes to banking services, digital is convenient, but when it comes to matters that are harder to understand (i.e., comparing mortgage options), I feel no chat app could replace a warm smile, head nod, and the comforting assurance that you are not an idiot, and that you are making the right choice.  
Findings
Finally, all that is left to do is synthesise the insights and present them to both the client and strategists. Here again, we aim for efficiency and strive to utilise the global perspective to surround our story around three key questions: 
What did we find that was relevant?

Which global trends are relevant to the client's business problem? What will help the client solve their business problem?

Why is that so?

What is causing the trend/shift? What are the underlying needs or pain points in the local market?

So what?

What are the implications for the client? How could the findings beutilised with the examples from foreign markets?

 
At this stage, we reverse the role of the global trends. We find that the story flows easier if we focus the research report on local insights. The global trends come in handy as supportive arguments and examples. So, when we present what consumers are expecting from a bank branch, we can support some of these comments with examples from other brands who heard the same pain from their customers and acted on it. 
For example, there is a segment of customers, who, while fully connected to their smartphones all day, do not yet fully utilise mobile banking services. To convert such customers to using their mobile app, State Bank of India (SBI) launched its mobile app branches (YONO Branches) where customers become familiarized with self-service opportunities. In this way, the bank combines digital experience with face-to-face interactions, utilising branches for customer education. 
So, our banking client got to know the needs and pain points of their customers and learned suggestions for further development of customer service channels. The development is still underway as I write this article; but, in general, the client saw how the customer experience could be transformed and what reactions to expect. 
Conclusion
I find qualitative research is rich in perspective and complexity, but now I preface it with a predefined framework stemming from the solutions in other markets. Using other markets as inspiration, we make the research process more focused and thus more efficient. Global trends also flavour the research reports—this way, we place our findings in a global context and point out what could be borrowed from other markets. 
Don't be mistaken—global companies or researchers in large, leading markets can also learn from smaller brands in less prominent markets. After all, we here in Lithuania might be successfully solving remarkably similar problems that brands are facing in the U.S. or Canada. For example, Vilnius, the capital of Lithuania, is combating pandemic effects on the economy by transforming most of the old town into an open-air café (by opening up public outdoor spaces to bars and pubs). Or, you might want to look at start-ups emerging from Vilnius, an increasingly successful fintech hub. Vinted, Lithuania's first tech unicorn, came out of a fintech hub and is a social marketplace for preloved clothing that expertly taps into younger generations' increasing concern with fast fashion. 
Or, you could let yourself be inspired by CityBee (a car-sharing service), which created a unique and inspiring marketing campaign around their employees leaving and then deciding to return, by putting their farewell and welcome back messages on outdoor advertising. 
Resources: 
– Open Air Café in Vilnius: www.bbc.com/worklife/article/20200805-how-vilnius-became-an-open-air-cafe 
– SBI YONO Branches: www.thehindubusinessline.com/money-and-banking/sbi-launches-yono-branches-in-navi-mumbai-indore-gurugram/article31952654.ece 
– Vinted brand: www.vinted.com 
– CityBee campaign: https://fleej.com/lithuania/pijah-is-back-why-did-she-leave-her-dream-job-at-google-life