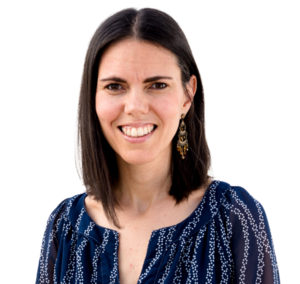 by Cherri Christiansen, Breakthrough Research, San Diego, California cherri@cherrichristiansen.com
This year, QRCA hosts its first-ever hybrid conference, offering a virtual summit from January 12–13, 2022, and an in-person event May 16–18, 2022. Embracing the theme of "REimagine REsearch," the conference will offer engaging educational content with a focus on connections, interactive discussions, and deep conversations. As we finally get back together at the Hyatt Regency Mission Bay in San Diego, California, I want to welcome you to America's Finest City! Surrounded by fifty miles of pristine beaches, San Diego offers spectacular scenery geared for fantastic outdoor adventures as its incredible, temperate weather and near-constant sunshine make it a year-round paradise. 
I can't wait to welcome my fellow QRCA members to the city I've called home since 2010. Go downtown and the laid-back vibe that plays out against a backdrop ranging from traditional culture to street art sets the stage for you to enjoy a huge menu of different cuisines and the city's renowned artisanal breweries. San Diego is a memorable destination—and I haven't even mentioned all the world-famous attractions. There won't be enough hours in the day to take it all in, so go on, splurge on some "me time," and extend your stay a few days either before or after the conference. 
The Roots
San Diego is historically home to the Kumeyaay people, although the original inhabitants to the region are now known as the San Dieguito and La Jolla people. Native American culture in the San Diego area goes back over 10,000 years. Old Town San Diego is often referred to as the "Birthplace of California," because it is the first site visited by European settlers on the West Coast. When the Europeans arrived, the Kumeyaay had already been living on the banks of the San Diego River for thousands of years. 
In 1769, Father Junípero Serra, along with Spanish soldiers, set up the first of twenty-one missions in California. The first mission was originally built next to the Spanish fort called the Presidio, which sits on a hill overlooking the San Diego River, what is Old Town San Diego today. This vibrant area includes retail shops and museums and is home to the Whaley House, deemed the most haunted house in America. I'd be remiss if I did not mention that San Diego was once part of Mexico, after Mexico achieved independence in 1821, and despite being part of the United States today, the city continues to be diverse and multicultural. 
It's definitely worth exploring Old Town, now a historical park, during your visit for a taste of San Diego's history and excellent Mexican food and margaritas. 
Get Outside
San Diego offers endless opportunities to get outdoors and connect with nature, and winter is no reason to be cooped up indoors in this city. 
A local favorite is Balboa Park, the largest urban culture park in the United States (almost double the size of Manhattan's Central Park), where you could visit for a short hour or easily spend the entire day if desired. Off the beaten path is the Japanese Friendship Garden, with its beautiful landscaping, Japanese sculptures, koi fish pond, and gorgeous bamboo water fountains. Right next to Spreckels Organ Pavilion, the world's largest pipe organ in an outdoor venue, you'll find the tropical oasis, Palm Canyon. This hidden spot in Balboa Park contains more than 450 palms and offers a short and easy hike into a lush canyon that's suitable for all ages. Balboa Park is also home to an incredible array of museums, including the Fleet Science Center, San Diego Natural History Museum, San Diego Air and Space Museum, and many more.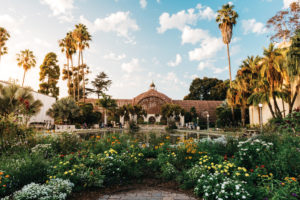 If you really want to see all of Balboa Park in a short period of time, view it from 200 feet in the air by climbing the California Tower at the Museum of Man, recently reopened after an eighty-year closure, for an unparalleled 360-degree view of the park and San Diego. The park is also home to the world-famous San Diego Zoo—although if you'll have a car, I personally prefer the San Diego Wild Animal Park in Escondido. 
If you're looking to get some hiking in while you're here and are open to venturing a little farther out, head to Mount Woodsen for a picturesque 6.4-mile loop that includes the infamous Potato Chop Rock, for some Instagram-worthy dramatic photos. In La Jolla, nicknamed "the jewel" of San Diego, visit Torrey Pines State Reserve for magnificent oceanside trails and, if you're lucky, some dolphin spotting. La Jolla Cove, home to majestic, sunbathing sea lions, is also worth a visit. When the tide is low, you can also explore the La Jolla Sea Caves—just be cautious and watch for the incoming tide! 
Surf's Up
You don't need to lay on the sand to enjoy the beaches. Skip the hotel's treadmill and take a walk or run along the coastline while enjoying the sunrise along one of the many beach paths. 
Close to the conference hotel itself is Mission Beach, home to Belmont Park, a seaside amusement park with a busy boardwalk, perfect for people-watching. If you're an adrenaline junkie, you'll enjoy the Giant Dipper—a vintage, wooden rollercoaster.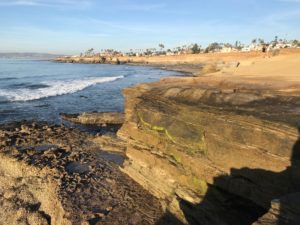 From downtown you can take the Coaster train up to Solana Beach, home to one of my favorite beaches, Fletcher Cove. I highly recommend taking the time to explore the Cedros Avenue Design District—two-and-a-half blocks of more than eighty-five shops, restaurants, spas, and boutiques. 
Up north, one of my favorite spots is the Self-Realization Fellowship Temple and Meditation Gardens in Encinitas. This serene spot is a magnificent place to take in the Pacific Ocean and watch the surfers at Swami's Beach. If you make it to La Jolla, La Jolla Shores is a local favorite for its breathtaking scenery, ample ocean activities, and fantastic park for kids. 
Down south, taking a fifteen-minute ferry ride from downtown San Diego, you can visit Coronado Beach and stop by the iconic Hotel Del Coronado, a 130-year-old luxury hotel. If you're getting there by car, a drive across the 200-foot-tall Coronado Bridge treats you to one of the best panoramic views of downtown San Diego. 
Happy Hour
You can't throw a rock in San Diego without hitting a good happy hour opportunity. The city is home to over 150 craft breweries, as well as several stylish cocktail lounges. 
In central San Diego, check out Cantina Mayahuel for five-dollar margaritas and tacos—and other delights. Across the street is Polite Provisions, a fun cocktail spot that offers a unique and swanky experience. While they don't offer food, you can enjoy Chinese cuisine from their sister property next door, Fortunate Son. 
Located in historic Little Italy is Born & Raised, a modern steakhouse with an open-air rooftop bar. While short-lived, their happy hour is definitely the best bang for your buck, offering eight-dollar martinis. 
If you make it to Imperial Beach (or IB as the locals call it) close to the U.S./Mexican border, visit Mike Hess Brewing. Just seventy feet from the beach, this former storage-container-turned-taproom has ample outdoor seating, live music, and an extensive menu, including both vegan and gluten-free options. Their kitchen is run by City Tacos, so you can get your beer and taco fix simultaneously. Also in IB is Sea180°, a coastal tavern right on the water with great seafood and an affordable happy hour. 
For Foodies
Island Prime, located on Harbor Island, offers incredible dining right on the water. C-level, the patio of Island Prime, also offers a more upscale experience accompanied by a view of the beautiful waves. Another bayside dining option is Coasterra, a modern Mexican restaurant, offering spectacular skyline and bay views that you can enjoy over dinner. 
For many folks, a highlight of San Diego is Mexican food, especially fish tacos. With multiple locations, the local restaurant Miguel's Cocina is a San Diego tradition for locals and visitors alike, offering authentic, mouthwatering Mexican cuisine served San Diego-style. In Pacific Beach (or PB if you're local), try the Pacific Beach Fish Shop for fresh fish and local microbrews. A few blocks from the beach in the same area is Oscar's Mexican Seafood, which many claim has the best fish tacos in San Diego. 
Not a fish eater? Vegan visitors should definitely try out NoW Sushi, San Diego's first all-vegan sushi restaurant in Mission Beach, or The Yasai, a plant-based Japanese experience in Little Italy. 
If you're looking for a great place to walk through and grab a bite, Seaport Village is it, offering a wide selection in a 140-acre waterfront shopping and dining complex. Another place to explore multiple dining options is the historic former Naval hub, Liberty Station. Whatever you're looking for, Liberty Station has it, and I highly recommend Liberty Public Market. If you'd like to catch another brewery with great dining options, check out Stone Brewing World Bistro & Gardens, formerly a U.S. Navy mess hall, with both indoor and outdoor dining, a bocce ball court, and an expansive garden. 
After Dark
One of my favorite parts of San Diego is the eclectic mix of neighborhoods within the city, each with their own personality and character. There is no shortage of nightlife options, whether you're looking for a dance club downtown or a charming neighborhood dive bar popular with the locals. 
Some of my favorite neighborhoods include Hillcrest, North Park, and South Park because they are all walkable and easily accessible from one parking spot. AC Lounge has a dive-bar feel, but in the back is The Glampisphere, a vibrant outdoor patio with a completely different vibe. These areas are home to some of the many local breweries, including local favorites Blind Lady Ale House and Kairoa Brewing Company (where New Zealand meets American comfort food). Many are family friendly, and I've personally always enjoyed The Station Tavern with their laid-back atmosphere and communal picnic-table-style dining in a massive backyard. 
For a night on the town, the Gaslamp Quarter is one of the most popular areas to hit up, full of nightclubs, tourist-heavy pubs, and a handful of live music venues. Many hotels in the area, including Altitude Sky Lounge and The Nolen, have rooftop bars that offer fabulous views. Keep in mind that some of these upscale spots do have dress codes, so leave your flip-flops at the hotel for this night out. 
A hidden gem in the most unexpected of places is Raised by Wolves in the UTC mall near La Jolla. From the outside it looks like an old-world liquor store, but take a seat at the fireplace and you'll find a revolving secret door into a hidden cocktail lounge and speakeasy, a place you would never believe is there as you walk past. Enjoy truly unique cocktails, with some served in a skull. 
Get Ready for Fun in the Sun
For every place mentioned, there are dozens more, so please feel free to reach out to me for any help planning your trip. I look forward to seeing old friends, making new ones, and being your tour guide in San Diego. Safe travels.