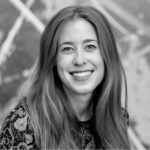 by Zoë Billington, Lead of Research & Consumer Insights, Vimeo, New York, New York, zbillington@gmail.com
FADE IN:
VIRTUAL ZOOM INTERVIEW——SOMETIME IN THE
MORNING PST/EARLY AFTERNOON EST
KEVIN and ZOË appear on Zoom with cameras and mics on.
Kevin is the founder and current CEO of Screen Engine/ASI, one of the few firms in the world that conducts specialized research on Hollywood's movies and television content.
Zoë is a consumer researcher and strategist in the tech industry who also serves as the editor of the VIEWS Luminaries column.
Kevin sits in a leather club chair. There's a floor-to-ceiling bookshelf behind his right shoulder.
Zoë has a virtual Zoom background to create the illusion of having a bookshelf despite being in a small Brooklyn apartment.
ZOË
Hi, Kevin, good morning. It's great to meet you.
KEVIN
Great to meet you, too. Thanks for doing this.
ZOË
My pleasure, I'm really excited about learning more about your unique career. Can you start off by telling me a little bit about your company?
KEVIN
I run a company called Screen Engine/ASI. We test between 60 to 70 percent of all movies that conduct early test previews in Hollywood, and the same for the pilots of series on broadcast, cable, and streaming services. We also test advertising materials and promos, and track movies and television shows both before they come out and once they're released into the world.
ZOË
I've also been enjoying reading your new book, Audience-ology: How Moviegoers Shape the Films We Love. Congratulations.
KEVIN
Thanks, I'm on my book tour right now, so it's been intense. Simon & Schuster is the publisher. I've been running around doing all kinds of interviews, podcasts, and webinars.