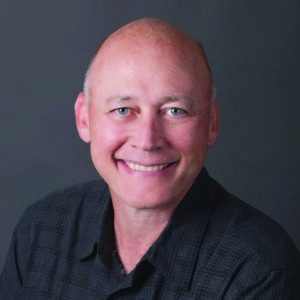 By Chris Hauck, CEO, HauckEye, Longmont, Colorado, chris@hauckeye.com
Denver is a walking town, a city full of joy and sun—year-round! You can easily walk to some fantastic dining and downtown attractions as you explore the city. There is love, passion, beauty, and adventure all within a walkable square mile, and it's all for you to enjoy when you visit Denver in winter for the next QRCA Conference. So follow me through LoDo, RiNo, and LoHi, and then into the mountains!
To Denver, We Go
Our next in-person QRCA Annual Conference will be held in Denver, Colorado, at the Denver Hilton City Center from January 22 to 25, 2024. I'm excited to have you visit Denver and to have fun like a local.
Denver is a paradise for fun seekers and recreation enthusiasts, so come explore the city and our surrounding outdoor environs.
Denver is a healthy and tolerant U.S. city, with joy and mystery around every corner.
I know what some of you might be thinking: mountains of snow, like the Alaskan tundra with the wind blowing at 60 miles per hour, and you standing there shivering, wet, and freezing to death. There are icicles hanging off your nose and fingers, and your toes are turning blue. A brutal dark and grey Rocky Mountain winter day, swirling winds, and blowing snow. Cold to the bone. The kind of cold that a polar bear and a walrus would discuss in earnest.
While that sounds like Alaska, or even Fargo or Buffalo in January, it isn't Colorado.
If this is how you've been thinking about Colorado, I'd like to help create a new impression in your mind as you prepare to visit Denver in January.
We get an average of 300 days of sunshine a year here in colorful Colorado, and we have low humidity. The painful, bracing cold many associate with winter has a lot to do with high humidity—icy water in the air. But Denver is in the "high plains," resting in the foothills of the Rocky Mountains.
A 20-degree day here in Denver can feel like a 50-degree day in San Francisco or Boston. The air is thin and light. Our snows are light and fluffy, which is why our skiing is so good!
But if you are cold, it's probably just a gear problem. One of the best places to shop for practical winter gear will be the gigantic REI flagship store on Platte Street on the edge of downtown. I definitely recommend hats, gloves, and jackets if you plan to spend any time outside on your trip. Don't forget to explore the store; it has a cool indoor rock-climbing wall and gear all over the store for you to try.
Things to Do in Denver—When Not Attending Great Conference Sessions!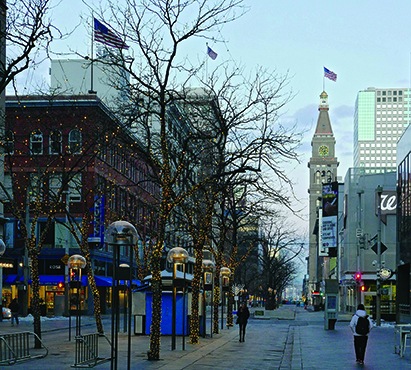 Denver's downtown is a very walkable 1 square mile.
Put some nice clothes on and set your imagination to the mid-1910s. In this version of a winter day in Denver, you are going to an elegant afternoon tea service at the famous Brown Palace Hotel. You can listen to Molly Brown telling her tale of surviving the sinking of the Titanic. She then turns to you to tell you about her workers' rights speech at the 1914 Conference of Great Women.
There are some great things worth walking to see—like Denver's famous blue, 40-foot bear, which peers with curiosity into the window of Denver's convention center. Get your picture taken with our blue bear; it's an icon of the Denver area. How many times have you turned a corner and run into a gigantic blue bear?
When you have some time, I also encourage you to go for a walk with some colleagues and friends through the Denver Art Museum (DAM). One of the largest art museums west of Chicago, the DAM is dedicated to helping visitors explore art and creativity through hands-on activities, extensive art collections, and world-class exhibitions.
The DAM's Hamilton Building is itself an architectural work of art. Designed by Daniel Libeskind, it will change the way you experience art and architecture. I must say, I always feel pretty DAM inspired each time I go there!
Enjoy Endless Restaurant and Libation Opportunities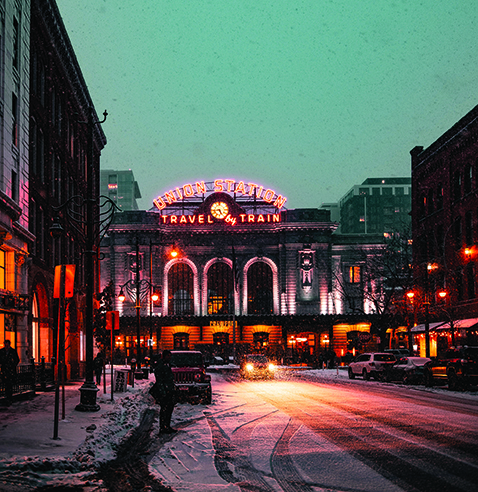 Denver is also a great gastro, brewing, and distilling town. We're excited to be already thinking about planning the restaurants for the conference's Dine-Arounds. Turn any corner and find award-winning chefs and their establishments, including Tavernetta in Union Station and Potager on Ogden Street.
Many of Denver's highly esteemed restaurants can be found in Lower Downtown (or LoDo).
One great restaurant in LoDo, Super Mega Bien, is run by chef Dana Rodriguez, a semifinalist for a James Beard Foundation Award. This lively Latin restaurant creates Mexican, Cuban, and Puerto Rican favorites. Their food is reimagined, served dim sum style from a turquoise cart or on family-style platters.
One of my favorite Denver experiences is Nocturne, a jazz club with dining. Nocturne is in the River North Art District (or RiNo). It is about a 1-mile walk from the Hilton. The food is amazing, and you can find live jazz Wednesday through Sunday nights, so be sure to stay the weekend.
In the heart of historic Larimer Square, Rioja stands out. Chef Jennifer Jasinski was the first woman in Denver to win the James Beard Foundation Best Chef (Southwest) award in 2013. Today, Rioja is still one of the best restaurants in Denver. Its ever-changing Mediterranean-inspired menu is filled with homemade pasta, fresh seafood, and local Colorado meats. Of course, this is all accompanied by a carefully thought-out and well-paired wine list.
ChoLon, an airy, contemporary, pan-Asian hotspot, is a favorite for power lunches and grown-up nights out, with beautifully executed small and sharable plates that hit both Southeast Asian and Coloradan notes flawlessly.
Denver Milk Market is a sleek 16-venue food hall anchoring the revitalized Dairy Block. Go for the steamed bao, lobster rolls, fresh chopped greens, gelato, decadent bakery, artisan pasta bowls, local craft brews, hot (spicy) fried chicken, crepes, and… need I go on?
Right around the corner from the hotel is the steakhouse Guard and Grace, which eschews the stilted dark-leather ambiance of its same-old counterparts in favor of an inviting light-and-glass vibe. With subtle modern twists on classic steakhouse fare, like chipotle-lime smashed potatoes and Wagyu bone marrow with oxtail marmalade, the menu is refreshing. The steaks really are the star of the show.
Machete Tequila + Tacos, right across from Union Station, is an absolutely buzzing street taco joint. Their dishes are some of the tastiest Mexican food you will find downtown.
Now We Are Ready for a Late-Night Drink
Green Russell, a LoDo tradition, is one of Denver's first modern-day speakeasies. It still invites locals to descend into the underbelly of Larimer Square for impeccable Prohibition-inspired cocktails. As your eyes adjust to the darkness, chat up a vest-sporting bartender to discover a classic you've never tried or rattle off your go-to spirits and flavor preferences to have a drink made just for your palate.
Union Lodge No. 1 is a cocktail bar with a lot of character. It has a huge 38-star flag on the wall from when Colorado became a state. Plus, they like to light drinks on fire here… so it's delicious, classy, cozy, and entertaining. Another suggestion is getting a drink at the hidden cocktail bar one story up above the open atrium in Union Station.
For those up for just a bit of a longer walk, there's also the speakeasy Williams and Graham in the Lower Highland (LoHi) neighborhood. It's not far from Uncle's Ramen (delicious!) and Little Man Ice Cream. Not far from this area is a bar called Forest Room 5. It's eclectic with a lot of millennial and Gen Z appeal.
There is also Denver's new Meow Wolf, located a bit outside the Downtown; a fun, trippy place where you can relive what it's like to let your imagination go as you did as a kid. Discover immersive psychedelic, mind-bending art and an underlying rich narrative as you take a journey of discovery into a surreal, science-fiction epic. It's a short 2-mile drive from the hotel or a well-worth-it 30-minute walk.
Beyond Denver
Just in case you did want to venture farther into Colorado, here are a few places I think are great ways to experience Colorado. Places like Boulder, Breckenridge, and Golden are not too far from Denver.
Boulder
If getting closer to the mountains is in your heart, a relatively close town to get a mini mountain fix is Boulder—home of the University of Colorado, once a hippie town and now a place where you can find top-of-the-line brand outdoor gear stores.
You can pick up a bus ride from Union Station. The buses run every hour, and it takes about an hour to get there. The bus will drop you on Pearl Street.
As you get off the bus, you'll likely find yourself gazing up at stunning mountains.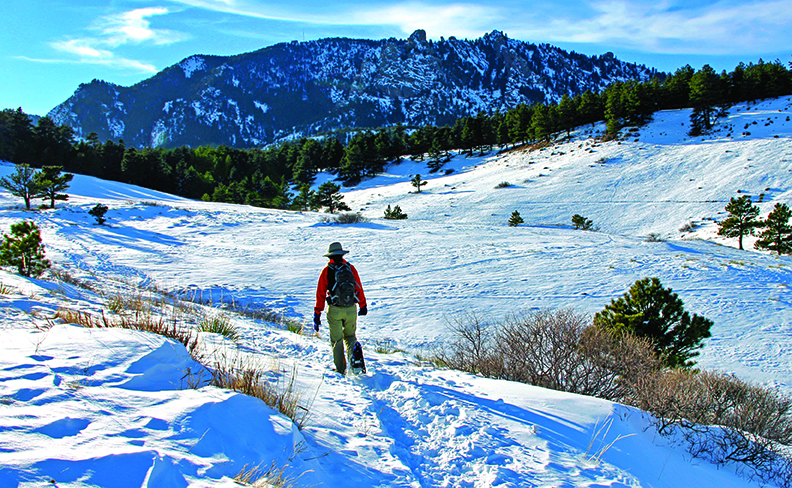 There are a few hikes worth checking out in Boulder, if that's your aim. Catch the bus to Chautauqua and try trails here, including Royal Arch Trail (3.4 miles), Chautauqua Trail (1.2 miles), and the first and second Flatiron (3.6 miles). A popular trail is the Mount Sanitas Trail and the Sanitas Trail Loop. This 3.2-mile loop trail has fantastic views of downtown Boulder! The Lower Sanitas portion is called "Dog Walk Highway" and is a good example of Boulder voice command rules in effect. Say hi to my dog, Otis; someone in my family is probably out there giving him a walk.
Or you can just meander about this small town and stop at a coffee shop or eatery for a relaxing morning or afternoon. The best place to walk is the Pearl Street walking mall, and definitely look for the Mork and Mindy house at 1619 Pine Street just north of Pearl Street while you are wandering around.
You can walk to the University, too—and I think this is probably one of, if not the most beautiful college campuses. From the stadium, you can appreciate the foothills towering over the campus.
When you are ready for lunch, head over to the Sink. You can sit in the same booth where Barack Obama sat during his visit.
Breckenridge
Breckenridge is only 90 minutes from Denver and is the mountain ski town you've heard about in all the tourist guides and movies; scenes from the movie Dumb and Dumber, that were meant to be "Aspen, Colorado," were filmed in Breckenridge!
If you're going to rent a car and drive up, definitely rent a car with snow tires and a four-wheel drive. Take I-70 West for about an hour or so to CO-9, and follow the signs to Breckenridge.
Once you arrive, park and walk around. It's beautiful here.
Golden
If you love brewery tours, be sure to consider a 25-minute drive to Golden, a cool little town that's home to the famous outdoor concert venue Red Rocks Amphitheater and also home to the Coors Brewery.
Red Rocks is the most famous outdoor rock music venue in the U.S. Many iconic rock concert films have been shot here. The acoustics are incredible, and the history is fantastic. It's an amazing place to see music, but it's also an amazing place to visit and tour, with a fantastic museum and great hiking trails, too.
People who've frequented concerts at Red Rocks always have their favorite event. Sometimes it's all about the band and music. But sometimes, it's the mix of the music and the context set by this amphitheater in the mountains. My favorite night was during a Big Head Todd show in 2008 in a phenomenal thunderstorm. That said, the most famous concert played at Red Rocks was U2 in 1983.
The self-guided tours are offered one hour after sunrise and continue until one hour after sunset—any day there isn't a show. Here's a link to schedule a tour: redrocksonline.com/plan-your-visit/tours.
The Coors Brewery is also worth checking out if you like breweries. They offer tours—but definitely preschedule to ensure your reservation, which is required. In our day of microbreweries and small-batch brewing, the Coors Brewery is a traditional American brewery popularized in the '70s and '80s with the Coors Rocky Mountain ad campaign featuring the fresh water of the Rockies.
Visit Denver This Winter for QRCA 2024
Be sure to visit Denver this winter. CBS News reported that Denver is one of the healthiest cities in the country. We're in shape, we work hard, and we play hard… and we sell weed. We are kind, tolerant, and ready to welcome you to the 2024 QRCA Conference in January. It's a beautiful place and a fantastic time of year.
In Denver, you won't need a car, but do plan accordingly if you want to venture outside into the mountain towns. It's all here and very accessible in the Mile High City. I hope to share these experiences with you, so see you in a few short months.