If the workplace of the future is no workplace, where would you go when the possibilities are endless? With an increasingly remote workforce, it can be tempting for location-independent professionals to run off as fast as they can to clock some hours at the hottest beach (prepare to get sand in your keyboard) or to crash a week in a hostel in Mexico City (I did this, it was awesome).
However, working while traveling is an art and a skill, which is why I'm here to equip you with some tips and tricks learned through experience. Six months ago, I took the plunge into my first remote position at a fast-growing market research agency startup. I caught the travel bug from the company culture, which actively encourages employees to live adventurously, whether that be carving out time to pursue one's passions or to work from adventurous places.
My first few months on the job, I was inspired by Tory, our hitchhiking, motorbike-riding, couch-surfing director of insights, who has years of firsthand experience working remotely while traveling abroad. I also had huge admiration for the creative California surfer lifestyle hacks from Evan, our marketing manager, who had famously hosted a Zoom meeting on a surfboard while surfing, and who was perceptive enough to offer advice on my beach form. (Apparently, the proper way to work on beaches is to use a reclining laptop mount.) Working remotely has allowed me to be more geographically courageous. Now at six months in, I'm officially a part-time digital nomad, having recently completed a week-long, adventure-filled stint working in Mexico City and looking forward to working two weeks in Lima and Cuzco.
There is something quite romantic about the nomad qualitative researcher. We get to hone our ability to empathize across different cultures and conduct constant, real-time ethnography for survival. But, as I stated previously, working while traveling takes learned skills. Before Mexico City, I had honed my traveler and digital nomad skills in Madrid and Miami, facing obstacles such as time zone differences, navigation and logistics, taking outdoor Zoom calls, and possession management ("Shoot, I lost the cord to the battery pack!"), all while maintaining normal levels of productivity. So, what are the key elements to consider while nomading abroad? Don't worry, this researcher nomad has you covered.
Time Zone Differences
Want to test the endurance of the human mind and will? Work New York City hours in Central European Time, where you'll need to be online from three p.m. to midnight to cover nine to six p.m. In all seriousness, if your team requires synchronous communications, be mindful of time zone differences when scouting out locale—after taking a 12:45 a.m. call in Madrid with a Chicago colleague, I compromised by sticking to Central and South American countries where work hours are closer to those of the U.S. However, don't be afraid to think flexibly: a friend currently nomading in South Africa says the late workday is perfect as the local attractions are daytime hiking and animal safaris.
Check out https://everytimezone.com for easy visualization of how work hours overlap across the map.
City Selection
Where are you going to go, Carmen Sandiego? I recommend drilling down the list first by time zone and then checking out nomadlist.com, where they rank hundreds of cities by "nomadability." They take numerous factors into account including cost, internet speeds, English speakers, nightlife, and safety for women. Other great things to consider for location scouting are weather and using the strength of the U.S. dollar to your advantage. Five tacos for $2? Uber rides for an average of $2.50 each? Yes, please, Mexico City.
Personally, I like to pick cities where there's already an established nomad hub, which means good Wi-Fi, solid laptop cafés, and (you wouldn't think this matters but it does) plenty of blog posts that dish out guidance on do's and don'ts of each scene.
Google Translate Hacks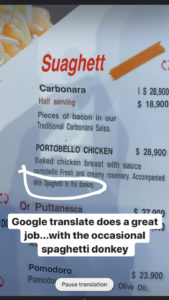 If you veer off into the non-English speaking world, don't forget your handy app, Google Translate. While not a substitute for actual language proficiency, it'll work in a pinch. The app has five modes: text, camera, handwriting, conversation, and voice.
Text: In its simplest form, you can enter words, phrases, and sentences in English for it to translate real-time into the local language, with the available option of audio pronunciation. I've stumbled around in Spain using this to communicate with sales clerks and reading restaurant menus.
Camera: This feature utilizes augmented reality overlays, translating foreign language text captured on the screen as you hover over it with your camera. Try this on restaurant menus, but be prepared for some humorous translation mishaps.
Handwriting: This allows users to input text/characters for translation. This is most useful for non-Romantic languages such as Chinese, Arabic, etc.
Conversation: Translates dialogue between two speakers of different languages with okay results. Obviously not as fluid or intuitive as natural conversation, but when you're trying to make small talk with an Argentinian in Morocco (true story), it's better than nothing.
Voice: Translates into text as language is spoken. Personally, I had trouble getting the app to capture the entire sentence as it would translate a couple of words, resulting in a panicked Uber ride in which the driver kept repeating a terrifying complex sentence in Spanish. (It probably only meant "someone else is joining your journey because this is Uber Pool, is that okay?")
Or, if you want to be able to navigate foreign language settings the tech-free—and much more sustainable way—you can try language learning apps like Duolingo or preply.com, where, for as low as $15 an hour, you can choose a tutor to take language lessons.
Cell Phone Data Plans
Check to see what countries are included in your international phone plan. For the frequent traveler, some carriers offer international phone plans or, like Verizon, international day passes for a set price ($10 a day). For longer stays, it would be more cost-effective to get a local SIM card, which is generally reasonably priced and allows you to access data anywhere. (Do note that in order to do this, you must have an unlocked phone.) Local SIM cards may restrict international calls but will give you data, likely for only around $15/month. Trust me, it's worth getting connected within a few days of arrival. It will make your life so much easier!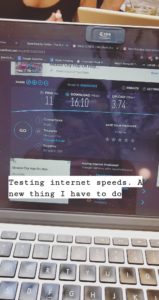 Internet Speeds
Don't be caught lagging in a meeting. I learned the importance of testing internet speeds when I got on a Zoom call in Mexico City. While internet in the U.S. generally clocks an average of 96 Mps for download speeds and averages upload speeds of 33 Mps, don't be surprised if it falls much, much lower (10-30 Mps download, <10 Mps upload) in less-developed countries, which will slow down heavy video/audio transmission. Keep in mind 8 Mbps download/1.5 Mbps upload are good requirements for effective video calls. Internet speeds within a city will differ by location and provider as well, and highly-touted nomad cafés generally will fare better. Also, if you're ever stuck in a bind, use your mobile phone's tethering/hotspot options, but definitely have a plan for Wi-Fi.
Resources:
Where to Stay
Should you rest your head at an Airbnb or a hostel? My colleague Tory swears by getting an Airbnb when she's abroad so she can be in one stable location, focus on her work, and control unexpected interruptions. (Have her tell you about the time window washers crashed her online interviews three days in a row.) Personally, I love the social aspects of a hostel and exploring the city with hostel-mates, but with hostels it can be taxing to find a stable location to work from every morning. Recently, I discovered an amazing compromise—coworking hostels. With a growing nomad population, these hybrid spots with hostel rooms and coworking spaces have started cropping up to serve the need. In Mexico City, I lived and worked in the Selina Downtown, and honestly, I'm a huge fan of the chain. Before nailing down a location, be sure to check it's in a good neighborhood and next to amenities and public transportation (if applicable). Ideally, you should be within walking distance to a grocery store for easy snack/meal trips (not good to start a workday without breakfast!) and to more easily keep your home away from home well-stocked.
Resources:
Selina Hostels, selina.com (Check out the coworking locations!)
Outsite: Coliving and Community for Remote Professionals, outside.co
Where to Work
If you're staying in an Airbnb, you've got workspace covered. For the rest of us, coffee shops and coworking spaces are must-haves for a productive day. Coworking spaces are perfect for a Zoom meeting-filled day where you can have uninterrupted conference time and a stable place to get up and go as needed. A meeting-free morning or afternoon is a perfect chance to explore the city by setting up camp at local coffee shops and restaurants and experiencing the scenery. During my time in Mexico City, I commuted between various neighborhoods, staying connected with my coworkers on mobile Slack. Depending on the country, price points can vary from $10 to $15 a day to $65 for a WeWork space.
Resources:
Coworking map, https://coworkingmap.org, maps out coworking spaces in cities around the world, 2000 locations and counting
Copass, www.copass.org, access a global network of 950+ coworking spaces for as little as $10 a day
Money and Banking
Understand the currency exchange rate of the country you're heading to before going. How is the U.S. dollar doing? When converting U.S. dollars to the local currency, if you have the option, make sure you shop around for exchange rates as some currency converters will charge higher margins, giving you less foreign money for your U.S. dollars. For those feeling a little more confident and who want to save on unnecessary fees, prior to the trip, find an ATM card, like Charles Schwab, and a credit card, like Capital One, that don't charge foreign transaction fees and that reimburse your ATM fees. Upon arrival, hit an ATM and stock up on the cash you need, but use the credit card when possible. This is cheaper than converting cash, as you pay no fees and your transactions will reflect the current (often fluctuating) exchange rate.
Navigation
Determine beforehand your primary mode of transportation: will it be rental car, subway, Uber, walking? Understand options in terms of price, safety, and convenience. (Don't forget to consider your abilities. Living in NYC, I almost forgot how to pump gas.) Some cities, such as Bogota, Colombia, have banned Uber. In fact, Tory experienced this during her trip to Bogota—one day she could use Uber, the next, no Ubers could be found. However, they often have their own version: Didi and Beat are the Colombian competitors and it's advantageous to get them downloaded with a credit card on file prior to your trip. While unforeseen navigation issues are always a possibility on the road, download Google Maps beforehand for offline use and pre-save locations you wish to visit. Maps.me also allows you to download the map for an entire city offline in advance. Bring your phone charger and spare battery pack with you because Google Maps will be your everything.
Now, Book Your Trip!
The most important thing when traveling while working? Having fun! You're living the dream! Look for the ways the culture and society surprise you. In Bogota, Tory discovered that every time you make a credit card purchase (even for something as small as a sandwich), they ask you at the register how many months you want to pay it off. Looks like credit card culture spread beyond the U.S.! Keep your market researcher hat on as you build empathy for other cultures and ways of life, and you'll also start to get a clearer view of your own.