by Nikhita Ghugari and Swar Raisinghani, Cofounders of Xeno Co-lab, Pune, India, nikhita@xenocolab.com, swar@xenocolab.com

The last two years brought challenges to humans everywhere that most had not seen or predicted before. Times of sudden and/or extreme crises—like the COVID-19 pandemic, natural disasters, or political change—call for rapid, contextual, and effective problem-solving. As qualitative researchers, we found ourselves considering an important question: How do we cope with such changes, personally and professionally? 
Those who embrace and practice creative problem-solving might have asked: How do we make ourselves ready to deal with such situations, creatively and effectively? 
Moving forward, however, the question we should ask ourselves is: How do we make sure that, from individuals to companies, everyone is adopting an optimistic and resilient mindset to overcome such unprecedented situations in the future? 
Now is the time for us to think and build our processes, and develop a mindset that is resilient toward such changes in the future. 
So, What Is 
Jugaad
?
As defined by the Oxford English Dictionary, Jugaad is "a flexible approach to problem-solving that uses limited resources in an innovative way." A colloquial Hindi word, Jugaad can be loosely translated as "a hack" in English. 
The Jugaad approach is deeply engrained in the day-to-day actions within the Indian culture and mindset. A phrase that you hear often in India is, "Kuchh Jugaad kar lenge," which in essence means, "We will somehow make it work." 
Jugaad as a concept is very specific to India, yet there are parallel concepts in other parts of the world (e.g., Gambiarra in Brazil). The mindset was born out of the need to create innovative solutions with available resources (e.g., money, material, or access to infrastructure) in resource-constrained and volatile situations. 
It's Human Nature to Be 
Jugaadu
The current COVID-19 crisis is a perfect example of a resource-constrained environment and volatile situation. The "hacks" were aplenty: turning your kitchen counter into a work desk or stacking a pile of books to create a laptop stand are creative, everyday fixes that we found when suddenly shifting to 100 percent work-from-home last year. It is our instinctive human nature to be Jugaadu—we find effective ways to do things without giving up. 
Jugaad has not only been used in formal innovation practices in large corporations but also within grassroots organizations solving community problems despite limitations. It will continue to stay relevant as we face a resource-constrained future. 
This quote by Indra Nooyi, CEO of PepsiCo, summarizes the approach accurately: "We need to bring a frugal mindset to the U.S., which is going to face scarcity of all sorts in coming decades. PepsiCo and other U.S. companies need some Jugaad thinking to come up with economical and healthy solutions that deliver better value to our customers and do so in a responsible way."  
How Do We Practice Jugaad?
Jugaad, as a mindset, can be adopted by developing these three main traits: 
Be resilient and flexible to the surrounding changes.

Find creative solutions from available, accessible resources.

Design for diversity, and practice inclusivity.
Be Resilient and Flexible to the Surrounding Changes
Constraints have always been perceived as limiting—things that hold you back from reaching your goals. But Jugaad innovators show us how to turn limitations into opportunities. For example, Mansukhbhai is a famous Jugaad innovator who built a refrigerator that works without electricity after his village in India was hit by an earthquake. 
The human-centered design work we do in India requires us to be flexible with our approaches and the tool kits we use while in the field, especially when we are doing research with rural communities that have limited resources. With the shift to remote research during the pandemic, we faced even more unexpected challenges. 
By staying flexible and thinking of our resiliency, we figured out how to teach the user to use a video-calling platform, and we found ways to onboard the less tech-savvy, or those without smartphones, onto digital platforms they may not have used before. We solicited the help of a buddy or family member when necessary. We often paused interviews (sometimes multiple times) to accommodate unforeseen situations caused by the restricted infrastructure. 
In your own research, to practice Jugaad, you need to: 
Be comfortable letting go of the "design research plan" to flex through unexpected situations.

Enjoy and embrace improvising tools, devices, or the research set-up to accommodate each participant's special needs/situation.

Build agility within your teams for coming up with solutions and refining them along the way to create magical moments within a constrained environment.
Find Creative Solutions from Available, Accessible Resources
Humans everywhere learned how to be resourceful during the pandemic, making do with whatever supplies we had available at home while being in lockdown. We found interesting recipes to prepare with ingredients in our pantries, we made face masks at home with available supplies, and we even used tissues for toilet paper more often than we thought possible. Being resourceful is a key element of Jugaad, as Jugaad solutions are made by reusing or repurposing limited resources in a resource-constrained situation. In turn, this helps us place value on our efforts toward sustainability. 
An Indian Jugaad innovator, Mohammaed Sahidullah, could not afford the cost of a boat ride to cross a river to meet his wife. So, he converted his bicycle into an amphibian cycle that he could paddle across the river. When facing resource constraints, Jugaad has us focus on sustainable and responsible use of resources we do have. By evaluating our available resources (e.g., a bicycle) and finding creative ways of utilizing them (sharing, repurposing, reusing, or recycling), we push ourselves to consider the entire lifecycle of a product/service. 
Jugaad pushes us to be sustainable while developing products and services. Many of our clients are working toward sustainable development goals (SDGs). As researchers, we adapt our processes to be resourceful, creative, and sustainable by: 
Evaluating our resources and finding creative yet equally effective measures to achieve the same result. (

For example, weigh the option of traveling to a location for conducting research and the impact of getting close to the user versus relying on local networks to do the same

.)

Pushing clients to put sustainability on their agendas by helping them design products and services through research. (

By bringing this up through our research insights and strategic recommendations in our design solutions, we have the ability to influence our clients and push them to be more resource-conscious

.)
Design for Diversity and Practice Inclusivity
The pandemic has made the disparities within our society even more evident. We can all help bridge that gap by making research inclusive—being mindful about designing research to understand unheard voices and opinions. 
During our research projects, we involve "nonconventional" users to make contextual insights rich and useful for companies, to help them build inclusive services. For example, it is often assumed that women in rural villages in India are not an active part of the financial decision-making process within a family because they are not earning members. However, while working on a financial-inclusion project in rural Indian villages, we chose a sample group with equal representation of gender. We spoke to them in their homes and at the crossroads in Indian villages. The learnings from those interactions were helpful in understanding the family dynamics when it comes to managing finances. They showed that common assumptions aren't true for all. 
Jugaad, in its essence, is about building inclusive solutions through participatory design. It makes you consider including everyone involved in the ecosystem. It has you think through design, not just findings, with empathy. An inclusive process helps create truly inclusive solutions.  
As a research community, let's try to: 
Include the "outlier" participants in our research processes and listen to unheard voices and opinions. (

Sometimes, these voices are the ones that make the largest impact

.)

Include local experts and local networks to build trust with the target users/consumers and immerse yourself. (

This also helps to deepen empathy and understanding

.)

Use local resources and materials available during the research. (

This supports the local economy, empowers participants, and helps build trust by being truly local

.)
The Jugaad mindset is an everyday innovation mindset to build a sustainable future. Through this mindset, not only can we cope with sudden crises (whether a pandemic, a volatile political shift, rapid technological advancements, or the global environmental crisis), we can make sustainability a priority as we build our future together. 
Examples of 
Jugaad
 Thinking in a Co-creation Workshop
Here are two examples of Jugaad thinking in our work for an e-commerce client. We were hired to conduct a co-creation workshop to aid in the design of a digital portal to improve their workflow efficiency. 
A goal of the project was to include warehouse staff in the design process. Yet some staff members weren't speaking up, as their team leads were in the same group. Letting go of the planned workshop structure and tools, our team sat with the staff separately, ensuring they were included in the process.

Another goal of the project was to understand the journey of the warehouse staff. We created nicely designed journey maps with the intention to use them as templates during the in-depth interviews as a base for our conversations. However, once onsite in the warehouse, we found our conversations needed to be more organic and unstructured; our carefully planned framework wouldn't work. So, our team tweaked the approach and converted the journey map discussion into simpler open-ended conversations. We then mapped their journey afterward; our new map was stronger, thanks to those more detailed discussions.
An Example of 
Jugaad
 Thinking with a Portable UX Lab
While working on a tech usability project with a tight budget constraint that did not allow us to buy new equipment, our teams used Jugaad thinking to create our own version of a document camera. We purchased a less-expensive microphone boom arm, mounted a webcam on it, and faced it downward to point it at the mobile screen of participants.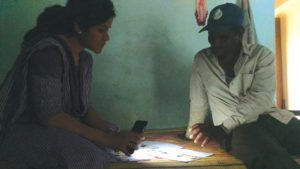 Examples of 
Jugaad
 Thinking on Two Continents
If you are based in the U.S., you likely noticed some innovative thinking in the restaurant business when things started to get rough for local establishments. Many started offering meal kits to go, often including cocktails and/or a bottle of wine. Even pizzerias were offering "take-and-bake" pizzas for families to enjoy at home. One Connecticut restaurant started providing weekly Provision Kits, which included the contents needed for a few meals, a loaf of freshly baked bread, one dozen eggs, two sticks of butter, and two rolls of toilet paper.  
Meanwhile, at large organizations in India, the Jugaad mindset kicked in to mitigate community disruption caused by COVID-19: 
Indian Railways repurposed trains' coaches to serve as isolation wards.

The Karnataka State Road Transport Corporation converted old buses into mobile sanitization units to disinfect essential workers.

Netflix and Amazon Prime were among a list of providers asked to lower their video streaming quality to reduce the load from the network infrastructure overburdened by the surge in the work-from-home setting.

ICICI Bank launched a banking service on the social media site WhatsApp to enable its customers to meet their home banking needs when faced with limited accessibility during lockdown.

Swiggy and Zomato, online food delivery services in India, collaborated with grocery delivery services Grofers and Big Basket to solve a delivery manpower crunch.