by Kristin Howell, President, Beacon Research, Annapolis, Maryland, kristin@beacon-research.com
OK, I'll admit it… I'm a pickleball addict! I do my best to arrange my business travel, vacation travel, and a large portion of my free time around the fastest-growing sport in America: pickleball.
By way of introduction, I started my independent insights consultancy twenty-two years ago and named it Beacon Research (a blend of my love for sailing and passion for understanding consumers) after working in both the corporate and agency side. When I launched Beacon Research in 2000, I immediately started dabbling with online methods to see if there might be a way to cut down on the amount of travel that was needed. As a newer mother, I was trying to balance work and family. For the past two decades, digital methods have accounted for most of my work, though I still travel to conduct in-person studies, too.
How I Got into Pickleball
In 2016, I was captain of a USTA 40+ 4.5/5.0 tennis team. During a team practice for our upcoming trip to Nationals, I noticed a flyer on the fence surrounding the tennis courts announcing a new pickleball league coming soon to Annapolis, Maryland, on Monday nights.
Recent empty nesters, my then-husband and I were actively looking for a new hobby to share. So, I came home and announced that I had found it! We should play in this new pickleball league! We signed up and started playing without even knowing what pickleball was, then ended up winning the beginner league in the fall and moved up to the intermediate level in the spring.
Tennis Injury Made Me Focus on Pickleball
Two years later, I was still playing competitive tennis when I had a very painful and debilitating injury. It was clearly up to my court whether my team advanced to postseason play. While I played on as long as I could, I tore both tendons in my dominant arm. I was told I could not play tennis or pickleball for nine months, and that was a life changer for me.
I soon repurposed my extra hours to teach 187 of my neighbors and friends how to play pickleball on our newly painted pickleball court. You may wonder how I was able to do this given that I was injured? I used my left arm to teach, and I eventually taught myself how to play pickleball left-handed until I could again use my dominant arm.
My Pickleball Associations and Clubs
That fall, I became an ambassador for the USA Pickleball Association and volunteered my time teaching more newbies to play. I worked with both local communities and recreation and parks departments to create more pickleball courts in our area to help keep up with the growing demand for pickleball.
Then, when the pandemic hit and competitive tennis shut down entirely, I suddenly had a lot of extra time on my hands after eighteen years of captaining and playing. It was during this phase that I shifted my competitive needs from tennis to pickleball.
In 2021, I helped bring skill-based ladder leagues to my local Annapolis Pickleball Club. More recently, I participated in my first team pickleball league in Florida, where I wintered for the first time ever. Now, I am thankful to have sponsors who help with my play as I help grow their brands (e.g., Engage paddles/apparel, Tyrol pickleball shoes, and SofiBella apparel).
So, what makes this latest passion of mine the perfect fit for me as an independent qualitative research consultant, that also integrates well into my business and leisure travel plans?
My Top Six Reasons to Play Pickleball
Availability: Pickleball is now played at approximately 10,000 locations in the U.S. (with another estimated 110 new locations each month) and in numerous countries around the globe.
Flexibility: An individual can show up for daily "drop-in play" without needing a partner or opponents whenever their schedule allows.
Portability: One simply needs to pack their paddle and shoes to be able to play when traveling, and both fit quite easily in carry-on roller bags.
Super easy to meet people: Games typically last only 15 minutes, with a new doubles partner and opponents each time, so one can easily meet 25 to 30 other players in just a few hours (each venue has its own way to manage player rotation—just ask upon arrival). Through pickleball, I've made so many strong and wonderful friendships, and I even met my boyfriend! My relatively newer friends have helped me move, hosted me in their homes during my travels, shared dinners and bottles of wine, and have even taken me sailing.
Fun way to exercise: I get tons of steps in, plus my glutes and hamstrings get an extra workout, all while laughing and smiling!
Safe way to still compete while aging: I was super inspired to see people from ages 50 to 105 competing in pickleball at the 2019 National Senior Games in Albuquerque. I played in the "baby" age group, so that was the first time in a long time that I felt young again!
I Use These Four Steps When Planning In-Person Business Trips
I start by going to the Places2Play app to learn where pickleball is played where I will be visiting. I prefer using the interactive map, though locations can also be quickly filtered by state, city, or zip code. The type of facility, number of courts, days/hours of play, contact information, etc., are all provided for each venue.
I choose a hotel that is relatively near the venue where I want to play on that trip.
I schedule both in-market research and flights around the days/times of play, ensuring that I can play at least twice while in each market.
I always swap contact info with players at my level so that I can reach out directly the next time I return to their market.
Integrating Pickleball into Travel Plans
In 2018, I came to Phoenix three days before the start of the QRCA conference to play pickleball at several nearby venues. I even played early one morning before the conference started, which really helped me make it through the long day of sitting in sessions.
For the originally scheduled January 2022 QRCA conference in San Diego, I had planned to come in early and stay longer to play pickleball with friends. To make that happen, I identified the pickleball venues that were midway between the conference hotel and homes of my California-based pickleball friends, then chose the two airports and booked my flights around where we could play. Unfortunately, I had to skip the rescheduled QRCA conference in May as I had already qualified to compete in the National Senior Games in Fort Lauderdale on the very same dates. I missed seeing my longtime QRCA friends and making new ones, as I've made it to seventeen QRCA conferences since launching Beacon Research in 2000.
On a recent trip to Chicago to attend the annual planning meeting with my brother who has Down's Syndrome and lives in a group home, I first joined local pickleballers in a round robin and got to be the photographer for one lady's birthday celebration. When they learned why I was in town, they insisted I come back after the meeting, along with my brother so that they could meet him, he could see us play pickleball, and we could try to get him to play (that didn't work, though he sure loved meeting everyone and had fun coaching us from the sidelines). I also squeezed in a trip to my hometown of Crystal Lake, Illinois, and played pickleball with my high school tennis coach, her sister, the younger sister and husband of one of my high school classmates, and the tournament director of so many pickleball tournaments around the country, who coincidentally happens to be from my hometown.
Tournaments are also a great way to blend travel, pickleball, and friends. In addition to the National Senior Games in Albuquerque, I've competed in various tournaments around the Mid-Atlantic and across Florida, including the U.S. Open in Naples, the Delray Beach Open, the APP World Pickleball Open and PPA Riverland Open in Port St. Lucie, and the U.S. Team Pickleball Florida Cup in Daytona Beach. Competing is only half the fun. Tournaments are a festival-like experience that make it easy to see pickleball friends from all over and make new ones, plus watching the "pros" play is inspirational and, at this early stage in the sports lifecycle, also super intimate.
When I'm planning a vacation, I use the same process and also reach out to my fellow USA Pickleball Ambassadors to learn more about opportunities within that region. Then I string together a trip that includes playing multiple venues. An example is shown below with places that I played on a week-long New England pickleball vacation.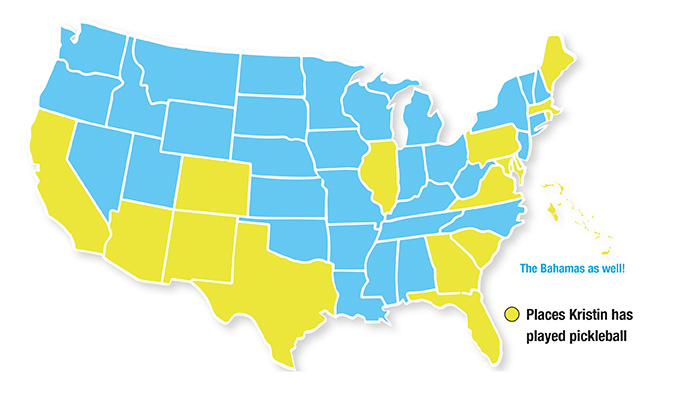 Integrating Pickleball in Your Remote Work Schedule
When I'm scheduling real-time remote research such as webcam interviews/groups and even client/team meetings, I do my best to protect certain days/times of the week when I know I have strong pickleball playing opportunities. This allows me to guarantee that my exercise actually happens on a regular basis and leaves me feeling refreshed and energized so that I can be more productive while I'm working.
Nowadays, pickleball can often be found being played seven days a week at nearby tennis courts, gyms, and recreation centers, with most venues active in the mornings (typically seven to eleven o'clock) and again late afternoons/early evenings. Pickleball's explosive growth is making it a fun option for people of all ages and skill levels to play almost anywhere, at home, or on the road. Just beware… it's addictive (albeit a very healthy addiction)!