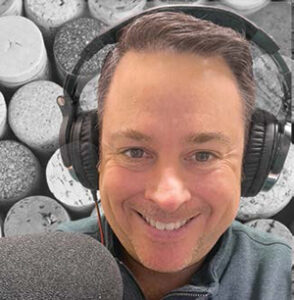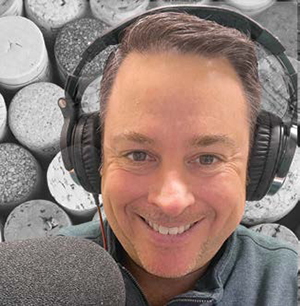 By Michael Carlon, Podcast Host, Uncorking a Story, Stamford, Connecticut, michael.carlon@uncorkingastory.com, @Uncorkingastory
As a qualitative researcher, my job is to bring out the best in the participants who have been invited to take part in a focus group or in-depth interview. The same is true in my job as a podcaster, as my goal is to provide a platform where my guests can promote their books and listeners can be entertained by, and learn from, successful authors. While the interviewing skills I employ for both my moderating business and podcasts are the same, how I use them is quite different. In fact, you could argue that, from a moderator's standpoint, I frequently break the rules when interviewing guests on my podcast.
One consistency between my approach while moderating or podcasting is creating a relaxed environment. The late great Frank Kennedy, my RIVA trainer, underscored that this was the number one job to be done when starting an interview or group discussion. Prior to hitting record on my mixer, I always have a little small talk with guests on my show to give them an overview of what they can expect and to make them feel comfortable with my style. I aim to create a relaxed environment with the goal to have the interview sound like a conversation between two old friends. I'm frequently told by guests that my creating a relaxed atmosphere at the start of our interview helped them to open up about their journey as an author.
There are three rules I do break, though, that Mr. Kennedy would scold me for if he were still alive, and these include bringing myself into the interview, not remaining neutral as the discussion unfolds, and not having a discussion guide.
Bringing Myself into the Interview
One of the first things you learn as a qualitative researcher is that you are not the star of the show—your participants are! Our clients are observing the group to learn from participants, not the moderators. I remember being scolded once by a client for being too "me" in a group. I was interviewing men who suffer from an enlarged prostate and found that they seemed resistant to open up during the course of the discussion. Of course, talking about one's prostate doesn't come up much in daily conversations with strangers, so I decided to introduce some humor into the conversation as a way of loosening everyone up a bit. I started making some funny observations and, before I knew it, the guys were laughing, which led them to relax and open up more. The problem was, I didn't know when to stop, and I got a note from the client asking me to tone it down as, and I quote, "This isn't the Mike Carlon show." Point taken. Uncorking a Story, though, actually is The Mike Carlon Show, so I can do things a little differently.
Finding common ground is a powerful way to build rapport with people we interview as researchers. One area of common ground I have with all the guests on my show is that we are authors. So, we talk about our shared experiences as authors, commiserate on the business side of the industry, and share anecdotes about funny and challenging things that happen while promoting books. It not only helps my audience learn more about my guests, but it also helps them learn more about me, which is important because I interview new guests every week, and I'm the one constant presence on my show. The more they like me, the more likely they are to come back and listen to future episodes. So, while I would never share my personal feelings toward a client's brand in a focus group or in-depth interview, I will bring my opinions and experiences into a podcast episode as it builds listenership and helps me bond with my guests.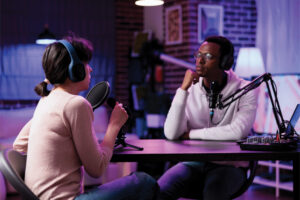 Not Remaining Neutral
Remaining neutral is important in my role as a qualitative researcher. As qualitative professionals, we must appear objective in the eyes of those around the table so that we don't subconsciously sway them one way or the other. When interviewing an author, though, I sometimes have to use leading questions to keep the conversation interesting, or else the audience may lose interest.
Writing is a solitary process and lends itself well to being introverted. As such, some authors have a hard time with feeling confident in the spotlight while promoting their work. Also consider that many authors, regardless of their successes, suffer from imposter syndrome and feel as if they are not worthy of the praise they receive. Many admit to being bad at self-promotion, so one of my jobs is to make them comfortable promoting the books they've spent so much time writing. As such, I must dial up my energy and use leading questions to turn them into salespeople; after all, my goal is to help authors sell more books and, if I do that well, I will have a steady stream of storytellers to interview. So, while I will remain neutral in the focus group room, I may be anything but in my podcast studio.
No Discussion Guide
I always go into a research project with a well-thought-out discussion guide that has been through multiple revisions and received client approval. Drafting one gives you the opportunity to show that you fully understand the client's objectives and collaborating with them on it gives you another touchpoint to build a relationship. On Uncorking a Story, though, I never craft a list of questions to ask my guests, much to the chagrin of their publicists who work hard to provide a list of suggested questions for their clients to answer. My reasoning is simple and selfish: I don't want my show to sound like every other show.
After introducing a guest, I ask them one simple question and the conversation just takes off from there. "Tell me, where does your story as an author begin?" It never ceases to amaze me how rich their answers to that question are and how much fertile soil it gives for the rest of the discussion. I basically follow my nose from there, and doing so can take us to very interesting places—places I may not have been able to anticipate while writing an interview guide. My guests find it refreshing, too! Most tell me that my interview was one of the most fun to do on their book tours because my show is unlike all the others they do. Additionally, they are tired of answering the same questions over and over and, as a result, bring more energy to my show than they do on others.
While the job of moderating a research session and interviewing a guest on my podcast taps into the same interpersonal skill set I've developed while working a quarter of a century in the qualitative research business, the way I apply those skills is much different, and it all has to do with the end result I'm trying to get. As a moderator, I need to uncover insights and truths that my clients can use for better decision-making. As a podcaster, though, the ends are much different—I have to help authors sell more books and entertain an audience so they come back for more every week. To do that, I must break the rules from time to time, and I love it.
Do You Like This Topic?
If you liked this article, you may also enjoy this QRCA DEI Task Force webinar, "How Language Means—What Everyone Needs to Know about 'Languaging' Connection," by Criscillia Benford and Ana Marie Trester.