As we launch into a new decade, I invited Quallies to predict the trends for qualitative research over the next ten years. Six researchers took me up on this assignment, covering a lot of ground; some very specific, some broader in nature. Are you ready for the challenge?
Predicting the Future by Evaluating the Past
By Benjamin Smithee
CEO, The Smithee Group
Brooklyn, NY
ben@thesmitheegroup.com
Perhaps the best way to predict the future is to first evaluate our recent past. Ten years ago, May 2009 to be exact, I delivered a presentation that would start an important conversation in the qualitative research industry called "The Social Media Revolution in Market Research." I covered the topics of ethnographic insights, data analysis, online communities, the importance of video, and the long-term effects of social media on traditional media. In January of that year, when US Airways flight 1549 landed in the Hudson and the first media reports were on Twitter well before traditional news outlets, I recognized social media would forever be a game-changer for media, marketing, advertising, and marketing research. Ten years, and thousands of views later, I feel pretty good about those predictions and that we can learn a lot about the future purely based on examining how our industry has since evolved.
Old Things—New Reprise of the Community
In 2009 and into the 2010s, online communities began to take flight, and I see them coming back around in 2020 and beyond. Brands are starting to get fed up with relying solely on the pay-for-play algorithms and ad requirements of today's social platforms (even though they are investing in social ads more than ever), and are beginning to utilize paid ads to funnel consumers back into privately-owned or ungated communities. Text groups, messenger groups, Facebook Groups, and blog/YouTube subscriptions are where brands are pushing consumers today in an attempt to regain control of the distribution of content, as well as the access to data. Researchers will need to know how to create, engage with, and analyze these communities and mine them for insights and intelligence effectively.
Real-time Ad Testing in the Wild
As big brands and startups alike begin to really put their money further toward social advertising and advance paid digital strategies, we will further enter the era of real-time ad testing in the wild (ITW). With the ability to gain true segmented consumer feedback on ads based on click behavior, direct sales, and other data, brands will lower their guard and bypass traditional testing for lower-risk initiatives. We are already seeing this as The Smithee Group helps brands launch upwards of fifty variations of ads and targeting configurations backed with pilot budgets and keen analysis. The delineation between marketer, advertiser, and researcher will be blurred as researchers will need to know how to operate and test within the digital ad ecosystem.
Small Data—Big Impact—Long Live the FG
Without a doubt, big data and automated marketing will continue to lead the way. With advancements in quantitative methods and interest in automation comes the utmost importance to understand the nuances of messaging and micro-segmentation. I believe the focus group will come back in style as the need for brands to better understand how to really communicate in the digital space becomes crucial to their success.
The qualitative research space has yet to reach its pinnacle and will see increases over the next decade. As consumers become more transparent and share more online, it's important we position ourselves as the strategic translators and analysts for brands and their agencies. As consultants, we must understand the tools of today, the technology of the future, and the chain of commerce for the next generation. If we do that successfully, the future is perhaps brighter than ever. Stay relevant, my friends.
A Look into the Future of Recruiting: Respondents Take Control
By Pam Goldfarb Liss
President/Big Brain
LitBrains-Igniting Ideas!
pam@litbrains.com
The dynamics of recruiting for qualitative research—where the recruiter is in charge, not the consumer—may see a change by 2030. Today, consumers are acutely aware that their everyday purchases and activities from social media, retailers (online and in-store), home delivery services, and financial transactions are all recorded. It makes sense that consumers are getting more paranoid given the recent breaches of trust of important personal information. However, from a desire for transparency, consumers will begin to look for a way to commoditize their information for their economic gain, which will be an opportunity for the research industry over the next decade.
Centralized Environments, Quicker Turnarounds = Respondents Take Control
Think about it—since databases from our daily lives are already collected from retailers, search engines, and social media sites who know your various habits, we are living in a world that could easily be searched and accessed with verified information for any research topic. For example, there is no more need for respondents to photograph receipts. We'll have their permission to see online that they did buy that red dress from The Gap.
"I think that a smart centralized source could ask consumers in a transparent way to share information to a centralized environment for research. As long as the information is transparent, consumers will be willing participants and get paid well," says Allison Rak, Vatoca, a qualitative researcher located near Silicon Valley in San Francisco. She has a creative eye for recruiting high-quality respondents in her studies. "Researchers could plug in to this website with specs and access verified purchasers from a centralized database that knows and tracks this online behavior."
Another recruiting future thinker, Bob Walker of Surveys & Forecasts LLC in Norwalk, Connecticut, agrees. As privacy concerns grow, and regulations are imposed (e.g., GDPR), blockchain is emerging as a data protection tool. Blockchain is already used to trade digital currency (i.e., Bitcoin), but consumer data blockchains are here (e.g., Veriglif). He notes, "Consumers will be in control of their personal data. Demographic, purchasing, and social media behavior will be available anonymously, but only for a narrow window, using tokens. Researchers can request participation, but pay a rate set by consumers. The upside: happier respondents and verified, higher-quality data, with less non-response. It's a win-win."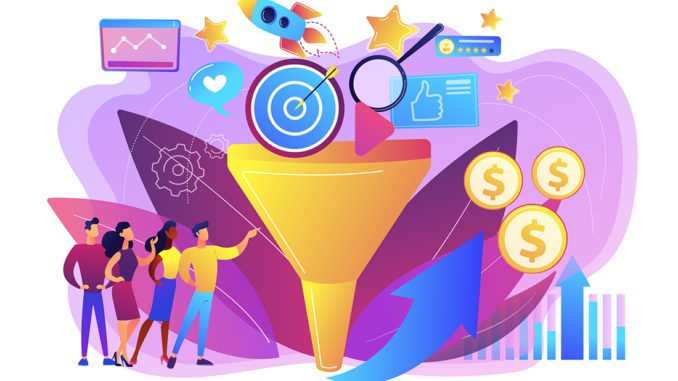 Potential Aggregators of Information Sold by Consumers
The aforementioned are some ideas to think about as we bring in the new decade and look ahead to a new world in qualitative research.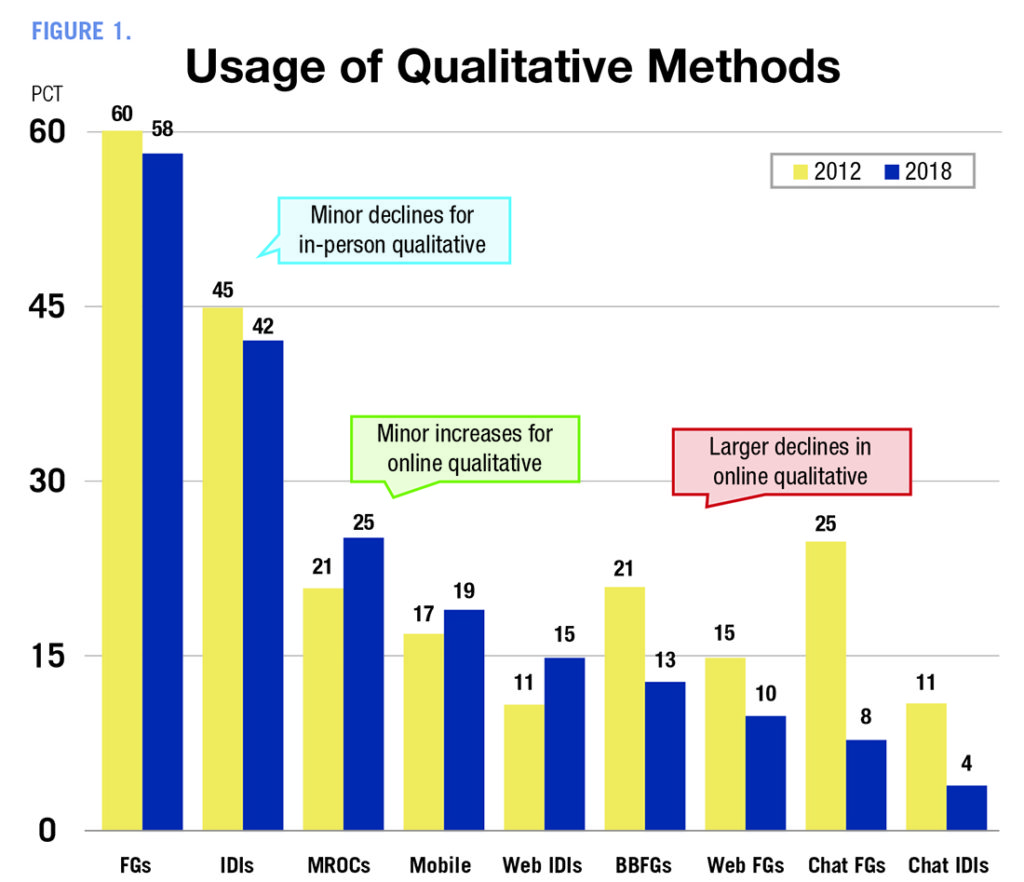 Predicting the Future Focus Group: Everything Changes—Or Not
By Rick Weitzer
Principal, Prell Organization
St. Louis, MO
rweitzer@prellorg.com
We hear it from our clients, on social media, and sometimes from our colleagues—traditional in-person focus groups are dying or even dead. Yet the reality for me is that I have a harder time convincing my clients to conduct qualitative online than in person.
The real reason why our clients prefer in-person focus groups is that they enjoy the experience of pressing their noses against the mirror, to get a visceral sense of how consumers are relating to their brands.
And here's another reason: discussion boards are boring to clients, like watching paint dry. Who (besides quallies) would want to spend the major part of three days reading and responding to respondents' endless streams of verbatim comments?
While it may be easy to dismiss this opinion as the result from a sample of one, check out the chart of data points concerning the usage of qualitative methodologies, courtesy of the 2018 GRIT Survey (www.qrca.org/views-036). Figure 1 shows that usage (not volume) of in-person focus groups has declined only two percent since 2012 (www.qrca.org/views-035) and three percent for in-person IDIs.
Certain online methodologies have seen only minor increases in usage: MROCs, mobile diaries, and webcam IDIs. However, these changes are not statistically significant and usage levels for these online methods remain much lower than in person.
The real story is the losers in this battle. Some online methodologies, such as bulletin board focus groups, chat focus groups, and chat IDIs are losing favor because, in my opinion, they don't deliver enough engagement for any party; respondents, researchers, or our clients.
Despite a decrease in the usage of webcam focus groups, I believe that this methodology has the most potential of any online platform. As vendors iron out the technical problems of delivering multiple streams of live respondent videos (which they appear to be doing), webcam focus groups will get closer to mimicking the look and feel of in person focus groups.
Further tweaks will allow the quality of the online experience to nearly converge with in-person. These include solving the issue of duplexing (people talking over one another), clearer video streams from respondents (to show body language better), and the ability to scale up the number of respondents online simultaneously.
It is remarkable that usage of the dominant qualitative methods can remain stable in an era of such great technological disruption. This speaks to the struggles that online methods have faced establishing preference within the industry, but also the considerable value that traditional in-person qualitative brings to our clients.
Time for Technology to Share the Spotlight
By Susan Fader
Fader & Associates
Teaneck, NJ
susanfader@faderfocus.com
Technology has been appropriately embraced by market researchers. It has opened doors on what we can explore, transformed how we interact with people, and provided additional tools on how we interpret findings. The qualitative researcher's armamentarium now includes a smorgasbord of technological goodies including online platforms, mobile apps, and artificial intelligence. To stay relevant, qualitative researchers must continue to explore and integrate these technological offerings. This alone, though, is not enough; we also need to rethink how we categorize people in recruitment and how to evolve the moderator's guide. In most cases the methodological designs, the question/answer format, and progression of probes from pre-technology days have moved relatively unchanged to these technological tools.
Categorizing People in Recruiting
Rethinking how we group people impacts how we recruit and recruiting should incorporate tribal analytics, which recognizes the importance of how people self-identify/perceive themselves. People who share similar traditional demographics including age, gender, education, relationship status, income, and job can have very different outlooks that impact decision making. For example, two moms who match on demographics and attitudinal scales may approach life very differently; however, their mom mottos uncover more. An "I go with the flow" mom approaches life and makes decisions differently than an "I'll do anything for my kids" mom. Traditional demographics wouldn't have identified this, and not integrating this difference into how you hear and interpret each of these mothers' feedback could lead to misleading findings. (For more on tribal analytics, see QRCA VIEWS Summer 2017 book review of John Zogby's We Are Many, We Are One: Neo-Tribes and Tribal Analytics in 21st Century America.)
Design for Storytelling
How we use storytelling should also be expanded. Currently, the focus is to use storytelling to provide stories as output in delivering research findings. Robert J. Shiller, a Nobel Prize winning economist, has pioneered narrative economics, which recognizes the need to see storytelling as input, and that hearing people's stories is a way to gain insights. Having people start a conversation with stories lets them decide how they will share information—the order of the details, the descriptive words they choose, and what they might leave out of their stories can provide rich insights. In a recent project, heavy and loyal users of fabric softeners were asked to share their laundry stories (which is the world fabric softener resides in) including key things they like and don't like about doing laundry. Interestingly, a number left out any mention of fabric softener—a very important insight that we would not have gotten if we started off asking them questions about fabric softener. Input stories matter.
The Five Senses
In the world of five senses, research almost always defaults to using just two—sound and visual—when asking questions and looking for feedback. It's time to start exploring how we can integrate the others. The human brain can store thousands of smells, which trigger memories and associations. For example, when doing a project on camping products, sharing different scents—pine trees and (campfire) smoke—triggered memories, elicited rich stories, and helped put them in the right frame of mind for the research.
Going forward, let's make sure that technology is not the only way we innovate.
Big Data, Hybrid Studies, Dashboards… Oh My?
By Susan Saurage-Altenloh, PhD, MBA
Saurage Research, Inc.
ssaurage@saurageresearch.com
The confluence of big data and methods of its analysis have created greater demand for qualitative as clients seek to know and understand the inner customer (values, beliefs, behaviors, mindset). The trend to curate and analyze increasing amounts of data drives enhanced demand for QRCs to refine their technological savvy, accelerate acceptance of multiple methodologies and hybrid studies, more clearly focus on individual client experiences, and develop more sophisticated strategies to deliver qualitative insights.
Prediction 1: Clients will expect synthesized integration of multiple methodologies from single-source research providers. End users are investing in processes and codification to streamline the internal research management process. Research users already look to hybrid and mixed methodologies to gather answers to complex market questions. As a result, clients will seek to secure numerous research elements from single sources as a way of simplifying internal processes.
Solution 1: QRCs will need to develop (and test) comfortable partnerships with statisticians if they are not experienced with quantitative tools such as segmentation, conjoint, MaxDiff scaling, Van Westendorp price sensitivity, Kano analyses, and so on.
Prediction 2: Clients will accelerate their focus on delivering better individual customer experiences at every touchpoint and will seek insights about every moment in the customer journey. Not only will demand to understand the customer increase, but speed to completion will contract as technology advances. Fortunately, clients will expand their qualitative budgets as they pursue evidence of improved
customer experiences.
Solution 2: QRCs excel in developing an understanding of customers via ethnographic studies, in-depths, social media platforms, and in-the-moment soundbites. Opportunities for long-term QRC engagement will increase to meet clients' long-term customer insights goals. It is incumbent on QRCs to maintain and expand their skillsets to meet client demand.
Prediction 3: Clients will integrate dynamic dashboards that synthesize
data science and visualization tools. Decision-makers will require shorter, simplified deliverables that include actionable insights on demand. Management tools such as dashboards that deliver instant access to data will become the standard rather than the exception.
Solution 3: Qualitative researchers will leverage resources such as Tableau or MS Power BI, journey/experience mapping, and sentiment graphs to help clients understand multi-methodology research findings.
Customized Technology Design Will Take Center Stage
By Dan Weber
CEO, itracks
Saskatoon, Canada
dweber@itracks.com
As technology infiltrates qualitative research, our industry finds itself with a plethora of insights and media never before seen in qualitative. The ability to connect with stakeholders (both in consumer and B2B populations) on a wide-scale basis using technology comes with a new set of responsibilities and opportunities for agencies, end clients, and qualitative software companies. Clients are fatigued with data and there is a clamoring for better tools to analyze and communicate insights. We envision a few trends for qualitative software over the next decade.
ROI Accountability for Research Spends
Companies will demand research that has immediate ROI, creates business impact, can drive change, is flexible in a constantly changing environment, and engages the final decision makers. Building projects using technology must link back to ROI. Each project, large or small, should be designed with goals built to achieve this objective.
Recently, itracks embarked on a journey with a client which shook the traditional research paradigm. The financial company challenged its teams to tackle the real-world view of customers in the financial vertical. The program helps plan sponsors keep the pulse on what employees in their industry and others care about for retirement planning and financial wellness. Our approach included an online research community filled with video responses from participants on a weekly basis. The insights are shared with current and prospective clients to show how this financial company provides best in class service.
Compressed Timelines
Have you ever had a client tell you, "I need this yesterday"? The industry is trending towards immediate insights, forcing innovation in all aspects of the research process. As part of this emerging need and trend, we can now allow for recruitment and initiation of a focus group in fifteen minutes. Mike Mou, Integrated Strategic Planning Director at Saatchi & Saatchi said, "Our client asked us to conduct focus groups on proposed new concepts with an extremely tight timeline. We built a research guide that day and…each of our groups were recruited in under seven minutes." We see a future in which more and more brand managers will be garnering feedback in minutes, not weeks.
Live Event Research
With the rapid proliferation of online streaming of live events, new qualitative research methodologies will follow. Research is being conducted on live events including sporting events, video gaming tournaments, political presentations, and our clients' own live events. Marketers are leveraging live feed applications such as Facebook Live and YouTube and see value in researching the customer experience. Participants watch the event they had already planned to watch and are remunerated for their feedback while it is taking place, giving clients that immediate, in-the-moment feedback.
Increased Client Engagement
Virtual backrooms available in online qualitative research platforms offer the ability for client observers to interact with a moderator in real time, with safeguards in place that make it so these same observers cannot interact directly with participants. More recently, there has been a trend towards building projects with customer immersion in mind. New methodologies allow the client to experience the research and be in a better position to implement the results. As technology advances, the client observer experience will improve to enhance client engagement during the research process.
Enhanced Participant Experience
With emerging methods such as communities, customer journey mapping, and voice of the customer initiatives, participant roles and experiences are being elevated. In a study for a nonprofit association, participants became so invested in the campaign development ideas that they requested to continue their involvement beyond the scheduled research engagement to see the website design through to completion.
As methodologies evolve, participants will be able to interact at convenient times using easily accessible methods such as mobile devices and video communications. With interviews and focus groups moving to on-demand models, the participants that happen to be available when the research is taking place can join in. With increasing time demands, participants will prefer not to commit to scheduled research sessions in advance. The time frame for incentive distribution will move to being instantaneous, allowing for immediate recognition of their time investment.